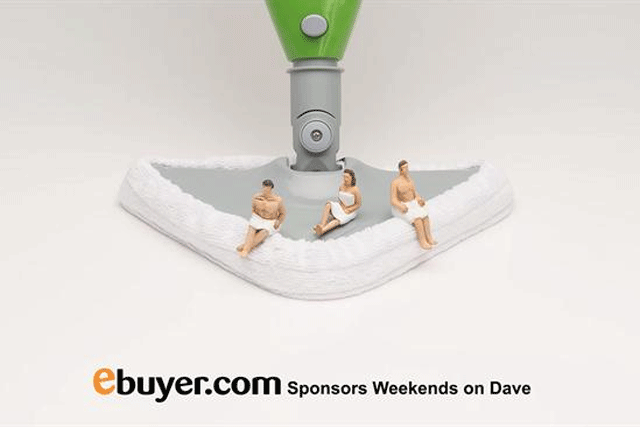 Uber, the Sheffield-based ad agency, has created 11 different idents to feature on Dave and Dave ja vu between 9pm and 2am, and various daytime slots, over the weekends throughout 2015.
The "big on tech" idents feature miniature toy characters interacting with life-size electronic products. One ident shows models posing provocatively in a steam mop "sauna".
Rufus Jones, the English actor, writer and artist, is the voiceover for the characters.
Dale Watson was the art director for the films, and Richard Salguero handled copywriting. Watson also directed the spots through Uber. Boutique Media handled the media planning and buying.
The deal was negotiated with Channel 4, which handles UKTV's ad sales.
Stuart Carlisle, the managing director at Ebuyer, said: "We've already had great success with our radio ads earlier in the year, so the progression to sponsorship on TV in 2015 will help make more potential customers aware of Ebuyer.com.
"Our sponsorship with Dave is part of a bigger plan for Ebuyer, as we look to become more involved with national events, advertising and TV.
"The partnership with Channel 4 and Dave made the most sense to us as we feel the channels hit a large proportion of our key demographics as well as being a hugely popular channel."