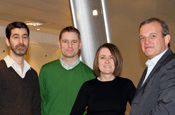 ECI has taken a 60 per cent stake in the firm, with the remaining shareholding being held by the existing management, which will inject more cash.

Existing shareholders include the i-level founders Andrew Walmsley and Charlie Dobres; David Pattison, who joined last year as the chief executive of the parent company; Faith Carthy, the group managing director; plus various other current and former employees.

David Pattison, i-level chief executive, said: "With ECI we now have the perfect investor to provide support and a significant war chest for both UK and International investment and acquisition."

I-level, the UK's largest independent media agency, has been the subject of numerous approaches in recent months since it appointed investment banking advisors to investigate its options ahead of a possible sale in October last year.

ECI director David Ewing said: "I-level is a fantastic company operating in a fast-growing market run by a great management team. We are excited about the opportunity to support the continuing strong growth of the business."