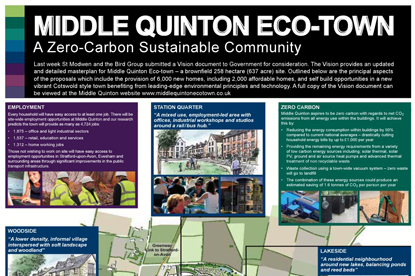 The ad, produced by St Modwen Properties and The Bird Group, detailed redevelopment proposals for the the 258-hectare site of Middle Quinton, Warwickshire.

The ad claimed the eco-town was being built on a brownfield site, and that it would provide 6,000 new homes and more than 4,700 new jobs.

Further text stated: "Middle Quinton's £100 million investment in infrastructure will deliver Stratford's Western bypass."

MP Peter Luff challenged the ad on all four of these points, claiming that they were misleading and could not be substantiated.

St Modwen Properties and The Bird Group responded saying that they had had to produce and publish a vision document, detailing the ambitions and commitments of the developers of each scheme.

They said the ad was intended to outline the idea of what Middle Quinton could be if it were to go ahead and therefore the ad should be viewed in that context.

The Advertising Standards Authority noted that the ad referred to St Modwen's proposal for Middle Quinton being submitted to the Government for consideration.

However, as all four of the points raised by Luff could not be substantiated with enough evidence, the watchdog ruled that the ad could be misleading and therefore it must not appear again in its current form.

Furthermore, the claims made by St Modwen and The Bird Group must not be repeated unless they have the evidence to support them.