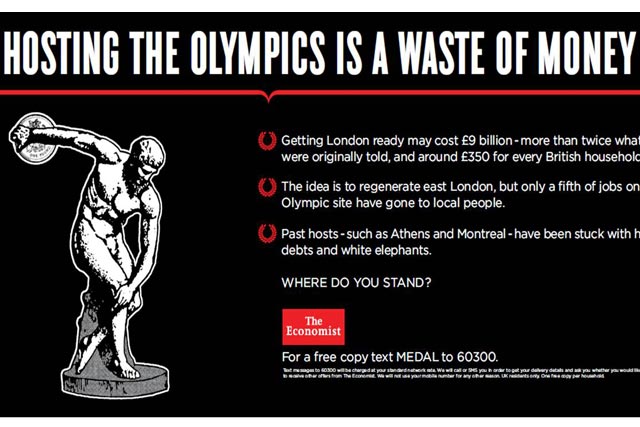 Created by Abbott Mead Vickers BBDO, the ads ask if hosting the Olympics is a waste of money, and if the baby-boomer generation has left a good or a rotten inheritance. The ads present an argument for and against.
The creative directors on the ads were Mike Hannett and Dave Buchanan. Mike Sutherland was the copywriter, and Anthony Nelson was the art director for the Olympics ads. Colin Jones was the copywriter and art director for the baby boomers ad.
Media planning and buying was handled by PHD.
By encouraging people to engage in discussion and debate, The Economist hopes to challenge non-readers' misconceptions of the publication by showcasing its editorial content, demonstrating that it might be something they would enjoy.
The "Where do you stand?" campaign was launched in June 2010, with three posters on the subjects of drugs legalisation, the trading of human organs and prisoners' right to vote.
It was followed by three new posters which launched in October last year, featuring editorial on subjects including scientists being allowed to create artificial life, legalising prostitution, and using force against Iran's nuclear programme.
The current crop of ads will be on the London Underground until 28 March.