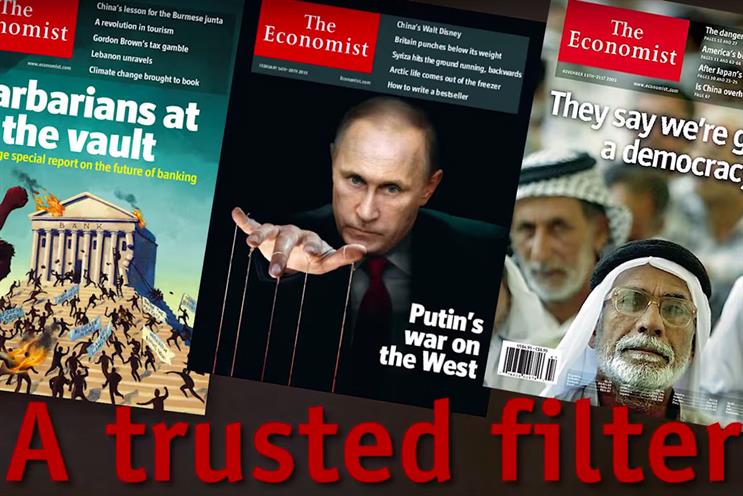 Pearson's 50 per cent stake is to be acquired by Exor and the Economist Group itself, it was announced last week.
Reacting to the news, The Economist enlisted its ad agencies AMV BDDO, Proximity and UM to launch a brand values campaign promoting its editorial independence. It has been editorially independent since its founding in 1843.
The creative for the online and social ad will form part of an ongoing brand response campaign that earned a bronze Lion at Cannes this year.
Michael Brunt, the chief marketing officer and managing director of Economist circulation, said: "Demand for subscriptions to The Economist remains undiminished driven by the mind stretching journalism we provide to an audience of global curious progressives.
"An audience that continues to see that the editorial we provide is of a quality for which an increasing number of people are happy to pay".
The campaign comes after last week's Audit Bureau of Circulation figures showed The Economist is maintaining a total circulation of 1.6 million while digital circulation grew by 226 per cent year-on-year.
Cilla Snowball, the group chairman and group chief executive of AMV BBDO, said: "AMV BBDO's relationship with The Economist goes back to the 'white out of red' campaign from the 1980s.
"I am delighted with the creative concept both AMV and Proximity have delivered. I am also grateful to have been involved in delivering a campaign that marks such a historic moment in The Economist's 172 year history."
As well as The Economist, the 172-year-old global business and current affairs magazine, The Economist Group owns The Economist Intelligence Unit, CQ Roll Call and TVC, the PR and digital marketing agency.