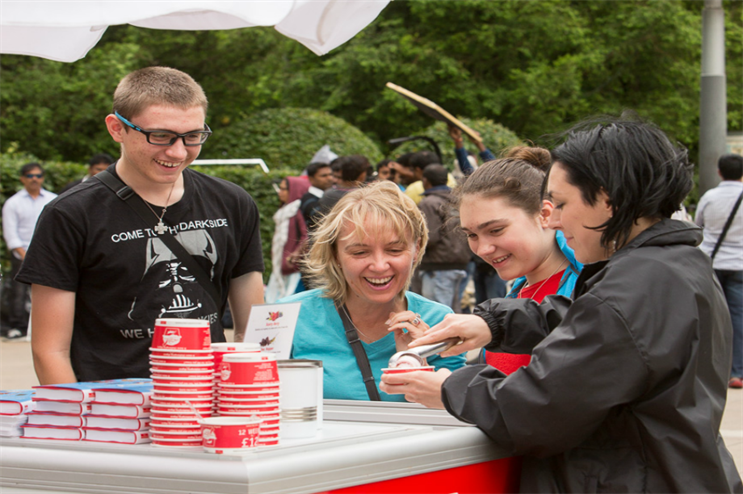 The #feedingthefuture campaign, devised together with agency Sense, aims to bring Economist articles to life by offering pedestrians various food and coffee treats tied to Economist articles that highlight pressing environmental issues.
Londoners in Denmark Hill, Kingston, Boxpark, Chiswick High Road, Sloane Square, Clapham High Street, Canary Wharf and Bloomsbury will be offered a free 'biodiesel' coffee, aimed at highlighting how used coffee grounds can create advanced biodiesel, a sustainable new fuel that can help the world reduce its dependence on crude-oil deprived fuels. This is based on an Economist article that explained how coffee biodiesel is comparable to the best biodiesels on the market and doesn't use up valuable resources like plants or land.
At Paddington Station, Euston Station, Charing Cross, London Fields, Liverpool Station, Holborn, Waterloo Station, Victoria Canary Wharf and King's Cross, Londoners will be offered free 'ugly food' smoothies made from food, originally rejected by supermarkets because it was discoloured or misshapen, but which is still edible.
In Manchester, Birmingham and London neighbourhoods including Brick Lane and Spitalfields, local residents and workers will be offered free ice cream topped with edible insects. The concept is based on an Economist story "why eating insects makes sense," which explores the idea of using insects to feed the ever growing global population.
Marina Haydn, senior vice president of circulation and retail marketing at The Economist said: "The #feedingthefuture campaign aims to challenge potential readers to consider new ideas and solutions to reflect on more environmentally sustainable approaches towards food production and consumption."
The activity kicked off earlier this week (26 April) in Denmark Hill and will run until 18 May.
More: Behind the Brand: The Economist
Last year The Economist launched a series of live debates on the future of work aimed at helping students make career decisions.