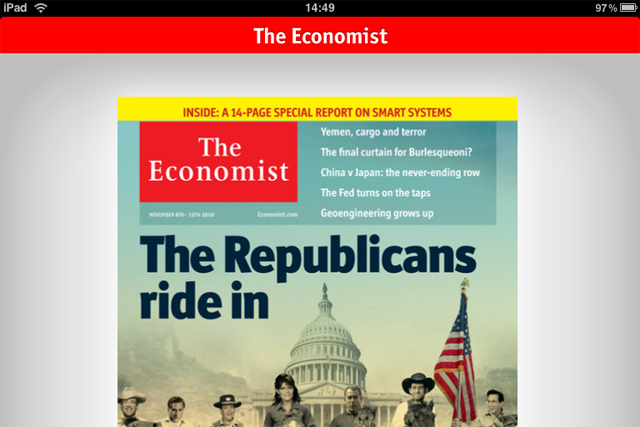 All three apps will offer consumers a weekly sample of articles chosen by the editor. The full issue of The Economist will be available weekly through Apple's In App Purchase every Thursday from 9pm, priced £3.49.
Each full issue will also contain the audio edition, which features professional newscasters reading all the published articles.
In addition, digital and print subscribers can receive full access to The Economist on iPad, iPhone and iPod touch as well as The Economist online by using their print or online subscription credentials.
John Micklethwait, editor-in-chief of The Economist, said: "We have reformatted the newspaper to make the most of iPad, iPhone and iPod touch while retaining the familiar feel of The Economist, with all the articles, charts, maps and images from each week's print edition."
Oscar Grut, managing director, digital editions said: "We have a growing print circulation of 1.5 million. We expect to reach similar numbers with our digital offerings in a relatively short period of time.
"Our apps are also a great way for new readers to sample The Economist, with a number of free articles each week selected by the editor. We hope many of those new readers will go on to subscribe to the full weekly edition."
The Economist Group became the first publisher to launch a major magazine exclusively through an iPad app in the US in October when it launched an app for Intelligent Life, its quarterly arts and lifestyle magazine.
The Economist recorded an average net circulation of 195,244 for the six months to June 2010, which was a 4.2% lift year on year.
The title also prints editions for continental Europe and Asia Pacific, which recorded 240,072 and 140,032 respectively in the latest ABCs – a boost of 0.3% and 3.2% year on year.