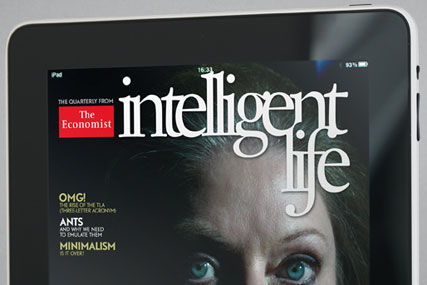 The app launched in the US at the end of last week via the Apple iPad store. Global financial services company Credit Suisse is the exclusive sponsor for the app's autumn launch issue, which will be free and available to download.
Credit Suisse is a regular advertiser for the printed publication. Other advertisers for the printed issues include Chanel, Mercedes Benz and Investex, the specialist bank asset manager.
The printed magazine, priced at £4.95, was first published in 2007 and is a departure from the politics and economic content of its parent title, with editorial on food, wine, books, music, fashion, museums, travel and philosophy.
The title also features contributions by regular Economist writers with specially commissioned pieces from authors such as Julian Barnes. The autumn issue will feature an interview with Man Booker prize-winner Hilary Mantel.
Since 2007 Intelligent Life has been available on the newsstand in Britain, Europe and Canada.
Des McSweeney, publisher of Intelligent Life, said: "Intelligent Life has always been recognised for its photography and illustrations, which match the elegance of the writing itself.
"Our team has made sure that the app gives readers a design as intuitive as the iPad itself, with every page specially adapted for both landscape and portrait formats."
Tim de Lisle, editor of Intelligent Life, said: "The iPad is a superb medium for long-form journalism. It is both a library and a lightbox, so it plays to our strengths. The iPad edition is a real treat, fully adapted to the medium, no PDFs allowed."
Meanwhile, the Economist's latest ad campaign, which launched in June, returns to underground and overground train stations in London today, and will run until 24 October.
The long-copy posters make a statement on a political or social topic and asks, "Where do you stand?".
The Economist recorded an ABC UK circulation of 195,244 from January to June 2010, and a year on year growth of 4.2%.