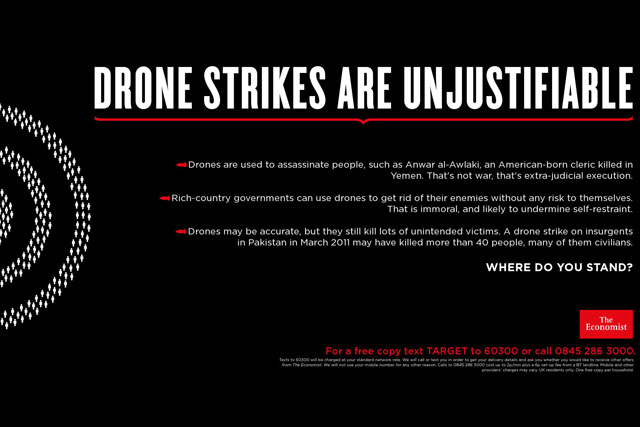 Two posters created by Abbott Mead Vickers BBDO present the arguments for and against the use of unmanned drone strikes.
A second set of Economist ads, also by AMV BBDO, discusses the issues around social media and whether they should be censored.
The ads were written by The Economist's editorial team and art directed by AMV's Thiago de Moraes.
The campaign has been planned and bought by Omnicom media agency PHD and WPP's Kinetic. It will run on CBS Outdoor sites on the London Underground from today (6 February) until 20 February.
From next Monday (13 February), The Economist will ask its 940,000 Facebook fans and 1.5 million Twitter followers where they stand on the issue of drones, as well as the use of social media.
The 'Where Do You Stand?' campaign has run since 2010 and is designed to encourage debate and discussion about key issues covered in the weekly magazine.
Other issues previously discussed as part of the campaign include immigration, Britain's quest to be a global power and the potential threat of China to the West.
Follow Maisie McCabe on Twitter @MaisieMcCabe