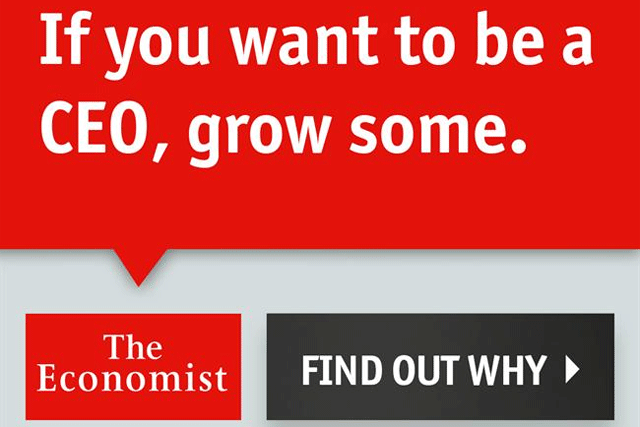 The campaign, created by The Economist's digital and direct agency, Proximity London, deploys provocative headlines, such as "If you want to be a CEO, grow some." and "Is pregnancy about to become a disability?" intended to demonstrate the title's breadth of content.
Readers are then invited to "find out" the answers and are taken to a landing page where they can read content, including an article that reveals CEOs are on average taller than their peers. It then encourages readers to subscribe.
Activity is aimed at a broad base of potential subscribers and includes page takeovers, banners and digital ads across news sites in North America, Europe and Asia.
Mark Cripps, the senior vice president and global head of marketing innovation and digital acquisition at The Economist, said: "Much of our content is provocative and the creative work could be nothing less.
"Proximity has been fundamental in designing a content marketing strategy that marries a cheekily inventive approach with state of the art dynamic units. We are proud to have globally aligned our brand and direct marketing activities through this digitally-led campaign."
John Treacy, the executive creative director at Proximity, said: "When people actually see the range of topics that are featured in The Economist, it's invariably a revelation.
"So as well as economics and politics, the audience gets to discover this eclectic and, often, playful world, full of witty writing and sharp analysis. It's this variety we've tried to capture and leverage. The result is a copy-driven digital campaign, totally inspired by the content."
The Economist appointed Proximity London in September. Proximity's sister agency, Abbott Mead Vickers BBDO handles the brand's advertising account.