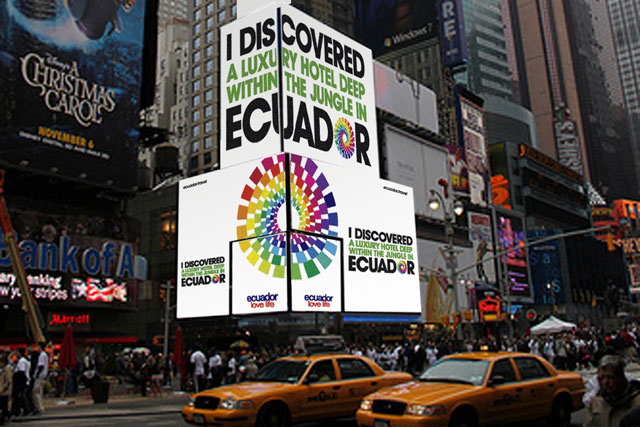 The agency is launching an outdoor, online and print campaign cross the UK, US, Germany and Canada.
The print ad will run in national and international broadsheet newspapers from Sunday, and outdoor activity has been installed in Times Square, New York.
The Ecuador Ministry of Tourism's first run of press ads uses images of the country's picturesque scenery. Bold and colourful lettering is used in subsequent ads to inform potential visitors about the country's many sights and attractions, including "a pink river dolphin" and "a luxury hotel that floats".
Nigel Roberts was the creative director and copywriter on the ad. The art director was Alan Cinnamond. MPG handled the media planning and buying.
Susana Guerrero, undersecretary at the Ecuador Ministry of Tourism, said: "Ecuador is a diverse and undiscovered gem. We need to build awareness of this in a way that is powerful and not clichéd. We needed something different and Leagas Delaney has delivered."
Tim Delaney, chairman at Leagas Delaney, said: "Ecuador is a remarkable country in so many ways. The campaign idea had to be capable of showcasing the many reasons a vacation there is so special. In a category full of ineffective clichés, our campaign is a bold, fresh way to engage our audience."
Leagas Delaney picked up the £10m campaign following a competitive pitch in April.