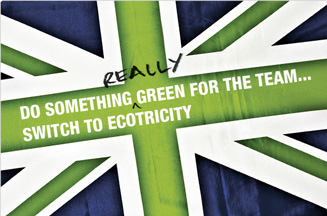 French-owned EDF Energy held its inaugural 'Green Britain Day' last Friday, only to see rivals run spoiler campaigns to showcase their green credentials while deriding EDF's.
The latter's initiative asked people around Britain to 'do something green for the team' to which British Gas responded with a national press ad the day before the event, stating 'Green Britain Day. For us, it's every day'. It listed British Gas' eco-friendly actions, including a commitment to renew-able energy and its 'Generation Green' schools programme.
Npower also ran a tactical press ad for its educational programme, 'Climate Cops'.
Environmental energy company Ecotricity, which describes itself as 'the world's first green electricity company', waded in with ads using the tagline 'Do something green for the team... switch to Ecotricity'.
The company, which was set up in 1995 and has about 40,000 customers, also claimed that EDF had hijacked its green Union Jack logo to front its campaign, adding that it plans to launch legal proceedings against its rival this week.
Martin Stead, brand director at EDF, has hit back at the activity by competitors. He said that EDF has led the way among energy suppliers in making long-term environ-mental commitments.
He added that it is also the UK's biggest generator of low-carbon electricity and the first sustainability partner of the London 2012 Olympic Games.
However, Ecotricity founder Dale Vince suggested that campaigns by the big suppliers have led to a form of advertising greenwash which distracts consumers from the real environmental issues.
He labelled EDF's campaign as 'shallow and gimmicky' and accused it of 'spending more on talking than on doing'.
This is a view echoed by Sam Stone, design director at branding agency Fitch. According to Stone, brands need to be able to show that they are taking environmental issues seriously, rather than treating them as just another weapon in the advertising war.
'When brands compete on green issues, it's hard for consumers to decipher who is greenest,' she said. 'It seems the energy companies are trying to gain ground against EDF rather than promoting their own environmental messages.'
Stone also suggested that EDF's communications around the Green Britain Day initiative were too short on specific detail about the company's environmental programme. 'In a campaign it is important to explain how you are green as a business rather than just creating the perception of being green,' she said.
Measurable benefits
For an energy company to differentiate itself in this area, according to Vince, it must demonstrate consistency in what it says and does, and deliver measurable environ-mental benefits. He has put forward the view that some companies have tried to promote themselves as greener and more ethical than they actually are.
Consumers, already sceptical about energy firms' green claims, are unlikely to have been impressed by the recent war of words. It now falls to the suppliers to show that their environmental assertions can stand up to serious scrutiny.