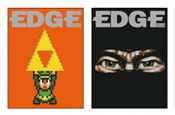 Celebrating videogame culture through the ages, Edge's 200 covers feature videogame characters such as Zelda's Link, Halo's Master Chief, Mario and Sonic alongside Dizzy, Q-Bert and Dirk the Daring.

Only 200 editions of each of the 199 different designs will be printed, with the 200th design, custom produced for Edge by LittleBigPlanet developer Media Molecule, delivered exclusively to subscribers.
Edge's editor-in-chief, Tony Mott said: "We were keen to mark Edge's 200th edition with something special, although we set ourselves a tough task in selecting 200 covers that would represent videogaming's diversity.

"Ultimately we're confident that every Edge reader will be able to find something among the final choices that resonates with their gaming life, and we look forward to seeing which designs prove particularly popular."
Inside issue 200, Edge, which was launched in 1993, identifies the 100 best games to play today, takes an in-depth look at the making of Sony's industry-changing PlayStation console, and talks to Ted Dabney, the co-founder of Atari.
The issue goes on sale on Thursday 12 March with a cover price of £4.50.