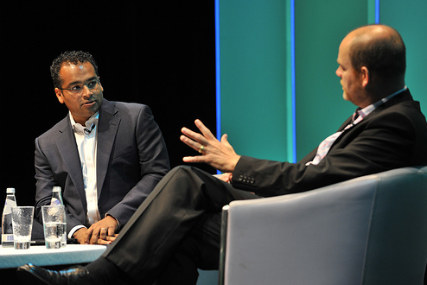 Speaking at a question and answer session today (28 August) hosted by Channel 4 presenter Krishnan Guru-Murthy following last night's MacTaggart lecture, Thompson said: "So much value of BBC Worldwide is its connection to the BBC.

"The idea of disengaging is more complicated than that. I heard Michael Lyons said we should be more open-minded about structure. The BBC brand is quite an interesting calling card, it is the best known UK brand in many markets."

The BBC leader's comments come as one of the Corporation's most commercially successful divisions, BBC Magazines, is actively seeking to strike a deal with a third party publisher. An announcement regarding the future of BBC Magazines is expected to be made in the autumn.

Another question today focused around the perceived lack of transparency surrounding the Corporation, but Thompson stressed there is "very little the BBC does that should not be fully open". However, he went on to add that this should not include individual on-screen stars' pay, or the amount it pays for sports rights.

He said: "There are many things the BBC does where it is competing head-to-head with broadcasters who aren't [transparent]. In the case of sports rights if everything the BBC offers is open, but not what the other broadcasters do, it would put the BBC at a disadvantage."

The BBC is under increasing pressure to reduce the amount it spends on both stars and executives and Thompson said this is underway. He said: "For me and everyone else working for the BBC is a real privilege. You have to expect to earn less than work at comparable broadcaster."

Thompson said pensions are a "very difficult and painful issue" but that the BBC pension scheme is "nothing exceptional" . The BBC pension deficit currently stands at between £1.5bn and £2bn and is currently in consultation with staff.

He also dismissed suggestions yesterday's keynote speech was an all-out-attack on the Murdoch empire. He said: "The question about Sky isn't about its dominance. The question is much more modest. It's, 'could Sky do more for British television?'"

He added: "I have a lot of sympathy with people who say that Sky has been run with a lot of influence from News Corp already. My point is a particular one. It's about how we make sure we have enough money so we can make the volume of British TV in the future."

Last night Sky rubbished his suggestion that it should pay for carrying the commercial public service broadcasters, but a resolute Thompson revealed he had already had conversations with people close to the Government about the policy within the last 24 hours.

Follow Maisie's views from the Festival on the Media 360 blog.