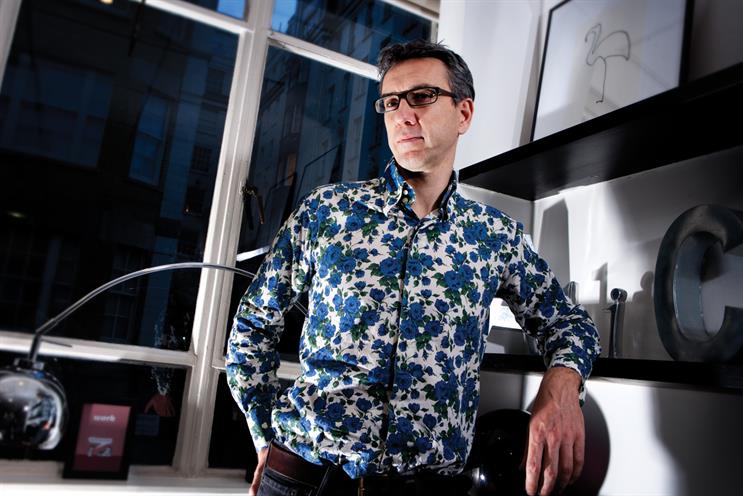 Steve Edwards is building a vineyard in Slovenia from scratch. He visits it to weed and dig, nurturing the land ready for the payoff: the first vintage, which is expected to be ready in around 2015.
Persistence and foresight are useful qualities for his day job leading Manning Gottlieb OMD's Beyond division. It acts as a growth accelerator for start-ups, solving clients' problems through business consultancy, mentoring and preparing them to apply for funding, as well as offering standard media services.
As with the vineyard, Beyond is about the long game. The aim, Edwards explains, is to spot and develop MG OMD's next big-spending client from the ground up: "We can start creating the next £10 million or £20 million account, rather than wait until it gets big and then pitching for it."
Despite employing just three members of staff, Beyond carries weighty significance for MG OMD. When the agency was named Media Week's agency of the year in October, testimonials from clients made up a sizeable chunk of the submission, and Edwards' work showcased the agency's innovation and commitment to being an all-in business partner.
Beyond launched in 2011, when a client chief executive asked MG OMD to double the size of his start-up in a year. The company was e­Spares, an online vendor of parts for domestic appliances. Edwards worked on a business plan and helped e­Spares attain investment, drawing on resources from around the wider agency, such as its brand science team and large-scale snapshot research.
"These are not the sort of things small clients generally get," Edwards explains. "If you're spending £100,000 but you're growing quickly, you have two choices. You either go to a small, specialist agency, which will give great service but probably doesn't have insight, data science, social and mobile teams; or a big agency, which will give the £100,000 work to a grad."
Edwards joined MG OMD seven years ago as client services director. He still leads accounts including Starbucks, Renault and Beko, but has slowly reduced his client responsibilities since launching Beyond, and looks set to drop them completely within the next year.
He has spent his career at large media agencies, including running Volkswagen Group at MediaCom.
His steadfast curiosity may have led him to start-ups – to launch the vineyard, he studied for diplomas in wine and viticulture at night school – although (apart from the vineyard) he has never started a business himself. "I have always been fascinated in watching businesses grow and seeing where they have come from," he says.
Beyond's seven clients are classic app-based start-ups that cut out the middleman, make things easier or gamify an activity already taking place. They include the taxi-booking app Kabbee; Upad, a self-service lettings service for landlords; and KidStart, which allows users to contribute to their children's savings accounts as they shop online.
Edwards is a youthful 43, and considers himself plugged into London's startup scene, a tightly networked community based at East London's "Silicon Round­about". Many clients result from recommendations or spotting ideas at events, but Beyond also pitches for a few.
We can start creating the next £20 million account, rather than wait until it gets big and then pitching for it
The hit rate is low: Edwards reckons he has met 80 start-ups in the past 18 months and worked with no more than 15. Some clients have gone bust, and a lot of work was needed to get Beyond to a point where it was making a profit – and that figure is peanuts compared with MG OMD's major clients. A certain amount of goodwill was required from the MG OMD chief executive, Robert Ffitch, to launch the project, Edwards admits.
The operation's success is inextricably linked to that of its clients but, fortunately, two years in and the successes are starting to come through. "We have a client that paid us £800 in fees two years ago. Next year, we are going to get a couple of hundred thousand pounds out of them," Edwards remarks.
The division's work often provides test cases for larger clients. For example, a "hyper-­local" solution devised for the now-defunct car-sharing app Whipcar has been applied to Renault.
And the original eSpares business that started it all? It no longer exists. With Beyond's help, it doubled its revenue – although not in a year – and launched some test radio advertising in the Midlands, before being bought by its largest competitor.
"I don't think the idea of Beyond could necessarily exist in a purely commercially led organisation, because it has taken a lot of effort and a lot of goodwill internally," Edwards says.
He adds: "It's the Steve Jobs mentality – you don't chase share value, you do what's right, and then the share value will follow."