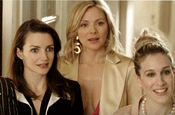 The agency has been charged with searching out promotional opportunities to target the film's 18 to 40-year-old audience. Sex and the City is due to launch in the May next year.
The Sex and the City drive follows the recent campaign by EFD for the film Hairspray which saw tie-ups with gym chain LA Fitness and hair product V05.
Lime is currently working on tie-ins for the Golden Compass, the film version of Philip Pulman's novel Northern Lights, which is due out this Christmas.