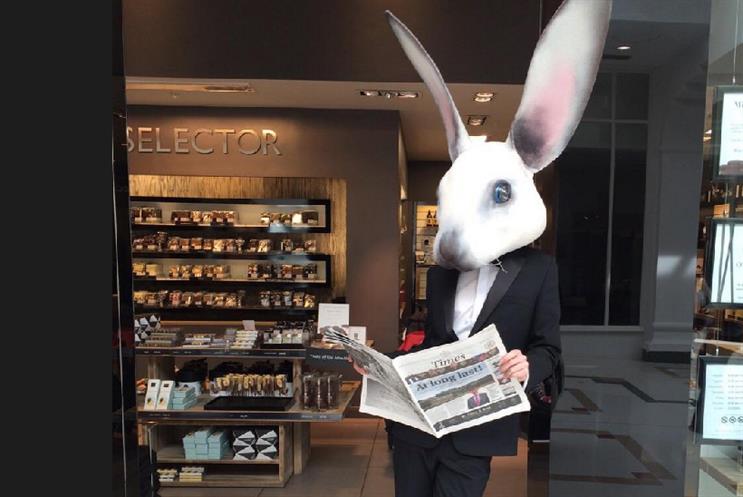 From bouncing chicks and treasure hunts to taking a selfie with an Easter bunny, we round up some of our favourite Easter-related messages.
Hotel Chocolat
The chocolate specialist is encouraging customers to take a selfie with its dapper Easter bunny, which is touring 39 of its stores, and share the image across social media sites with the hashtag #TheBeauBunny.
The high street chain has covered its Facebook wall and Twitter feed with pictures and videos of customers posing with its bunny.
Hare-raising news - I'm in Tunbridge Wells today! pic.twitter.com/NTL04RzxOK

— TheBeauBunny (@TheBeauBunny) April 1, 2015
Spar
The retailer is getting all clucky this season by directing customers on its social media sites to design their own chick by choosing a selection of headwear, accessories and clothing for their chick to don. Some of the best submissions will win an Easter treat.
Having an Easter Egg Hunt? Here are some fab printables to make it eggstra special #Easter http://t.co/oxMgiI0wHI pic.twitter.com/0Fj5EKWY6u

— SPAR There for you (@SPARintheUK) March 31, 2015
The Co-operative Food
Another retailer to indulging in an Easter egg hunt this year, is The Co-operative Food, which asked people to count the number of eggs they can find on its Easterlovedbyus.com site and share their answers on Facebook and Twitter, using the hashtag #coopeasterhunt for the latter.
Lidl
Lidl has bounced into the enthusiasm for Easter with a game on its Facebook page in which people are encouraged to crack eggs in order to win prizes.
Lidl UK
on
Tuesday, 31 March 2015
Cadbury UK
Cadbury UK has continued with its #FreeTheJoy campaign, and uploaded a two-second video on Facebook of a yellow chick jumping up and down next to four Mini Eggs. The brand then poses one of life's most-asked questions: 'What came first, the mini chicken or the Mini Egg?'
Thorntons
The high street chain turned to social media to mastermind a nationwide Easter egg hunt. The chocolatier published an interactive map of the locations of the 50-plus eggs it had hidden across the UK and revealed shared clues on Facebook and Twitter. It encouraged people to tweet their hunting updates using the hashtag #HarryHopalotsEggHunt!
Harry Hopalot, armed with his magic bag hops faster than the wind to deliver your Thorntons Easter eggs!Find out more about our lovable Easter bunny at his very own hub: http://bit.ly/HarryHopalotHub

Posted by Thorntons on Wednesday, 18 March 2015
Debenhams
The department store chain has joined the Easter egg hunt bandwagon by encouraging shoppers that visit its stores to tweet a picture of an Easter egg poster within its stores using the hashtag #EggcellentHunt.
Waitrose
Waitrose is encouraging people to share their Easter pictures, whether that's a treasure hunt or the food they've made onto twitter, Instagram or Vine using the #GoodEgg hashtag. The premium grocer is also being a good egg this Easter by making a charitable donation to Great Ormond Street Hospital.
Aldi
Aldi splashed some chocolate across four of its products and asked customers to guess what was hiding underneath the chocolate layers, and respond with the hashtag #AldiFavouriteThings.