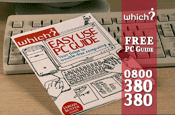 The appointment will see the agency provide planning input on the £2 million Which? business, as the consumer guide gears up for a test of new advertising activity on major TV channels, including ITV and Channel 4, and across print media.

Mike Colling & Company will continue to handle media buying for Which?, with an initial test campaign expected to run in Scotland to promote the Which? range of products.

Separately, the Which? owner, the Consumers' Association, is planning the launch of a price-comparison website and recently appointed Spike, the Cossette Communication Group-owned agency, to create launch work for the site (Campaign, 18 July).

In July, Which? provoked a strong response from ISBA after publishing a report that claimed food companies are switching their marketing ?efforts from young children to teenagers by using online media and text messaging.