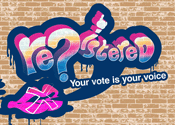 The month-long drive, created by BEcause Experiential Marketing, will see a graffiti wall travel round 42 university campuses. Students will be able to write about what voting means to them on the wall and brand ambassadors will encourage them to fill in registration forms right away.
They will be able to post their forms in mock ballot boxes or explore the Electoral Commission website on laptops around the graffiti wall. Local government elections will be taking place in England and Wales on 1st of May.
In September, the Electoral Commission appointed agency Farm to create an integrated campaign to boost participation in this year's London Mayoral election. The registration drive runs from January to April and follows the low turnout for 2007's local elections.