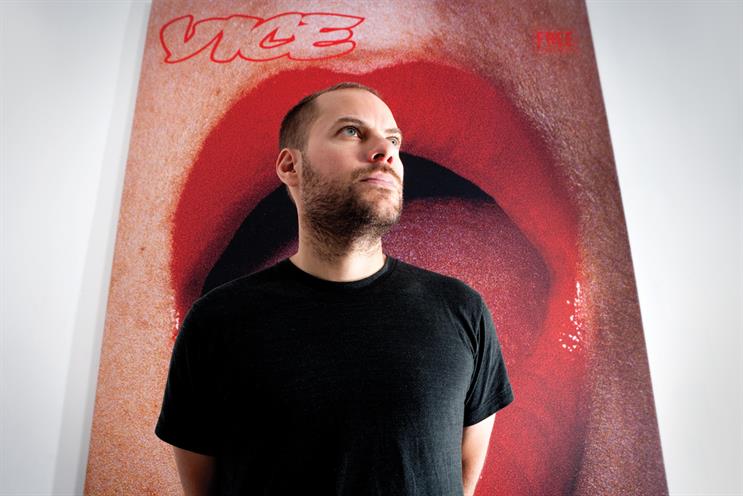 Where do we fucking sign?" was the res­ponse from Shane Smith, the founder of Vice Media, when 21st Century Fox paid $70 million for a 5 per cent stake in his business in August.
The deal, which values the company at $1.4 billion, was a further badge of approval for Vice Media, which started life as a punk magazine in Montreal in the mid-90s. It is now an online youth video empire, attracting nearly one billion YouTube views a year across its brands, including the gonzo journalism outlet Vice, its music channel, Noisey, and the science-focused portal Motherboard. Fox joins investors such as WPP, the MTV founder Tom Freston and William Morris Endeavor, the talent agency that has acquired a slice of Droga5.
Matt Elek, Vice's commercial lead for EMEA, was a fan of the magazine while growing up in Canada – "where there are few things with any globally relevant cultural meaning and depth". After studying in the UK and getting his first job at FHM, Elek sent an e-mail to Vice asking if they had considered launching outside the US. "And that was it," he says.
He co-founded the UK print edition in 2002 and now oversees operations in 15 countries and licences in five, pulling in rapidly expanding revenues that reached more than £40 million last year. He has helped Vice emerge as a winner after Google invested heavily in original content for YouTube last year – Vice and Noisey are among the top ten original YouTube channels by views, along with The Creators Project, a collaboration with Intel that showcases artists working with technology.
Print is all but forgotten: revenue from Vice magazine makes up a tiny fraction of the total. "It's completely changed," Elek says. "When we launched, print was 95 per cent of our business and now print is less than 5 per cent. The print market for us is still growing but, as a percentage of revenue, it's… I don't want to say inconsequential, but definitely very small."
He acknowledges that not everyone in media is aware of Vice's transformation, perhaps because senior execs don't fall into its demographic. "Our business has accelerated a lot and some people haven't kept up with it. If you're not 22, trendy and a consumer of digital, mobile and video, it's not something you might have come across."
Elek is in tune with the youth mindset, but not reckless. Matt Andrews, the chief strategy officer at Mindshare, says: "He brings great insight and inspiration, then quietly and without fuss makes great things happen. He's wired directly into global youth culture, but with that brings a mature perspective, which means you can sit down with him and work out how to create something of real value."
He has been instrumental in brand partnerships such as Grolsch Film Works – which funds and promotes up-and-coming independent filmmakers, actors and directors –and Sound and Rhythm, a music platform to help promote a Burberry fragrance.
Authentic youth content is essential, Elek says. "A lot of the mainstream media channels feel like they are made for selling. Young people are smart, and they have been marketed to for so long that they can tell when someone is bullshitting them. The days of an advertiser-first app­roach are finished."
To this end, he believes in getting involved in the creative process early with brands. "Once you give a creative agency a brief that didn't come from an authentic place, you're screwed before you've started," he says. "Whether or not we do the production, we help them through that process so when the campaign lands on our desks it fits seamlessly into our ecosystem."
Vice hasn't shed its hipster reputation – the UK office is in Shoreditch and many of its staff wear a silver company ring without irony. But it has moved into more serious journalism, covering subjects such as the abuse of ketamine in China and clashes between rebel groups in Syria. This year, its documentary TV series on the US network HBO was nominated for an Emmy.
'Once you give a creative agency a brief tht didn't come from an authentic place, you're screwed'
Elek is working on proliferating Vice's video channels: a food offering will come soon, along with the European launch of the electronic music channel Thu.mp, already well-established in the US, at the end of the year. Then there's next month's online rebirth of the style magazine ID, which Vice bought last year. "We've scrapped their platform and rebuilt their entire offering from scratch to be digital-first," Elek says.
Targeting interest groups is part of Vice's growth strategy. "We want to become the biggest network in the world for young people," Elek says. "What does MTV look like in 2013? It doesn't look like MTV. It looks like a suite of channels, a similar change to what happened around the launch of cable networks."
With the "dream team" of investors, as Elek calls them, in place, Vice is poised for further expansion and will be in the spotlight as online video continues to develop.