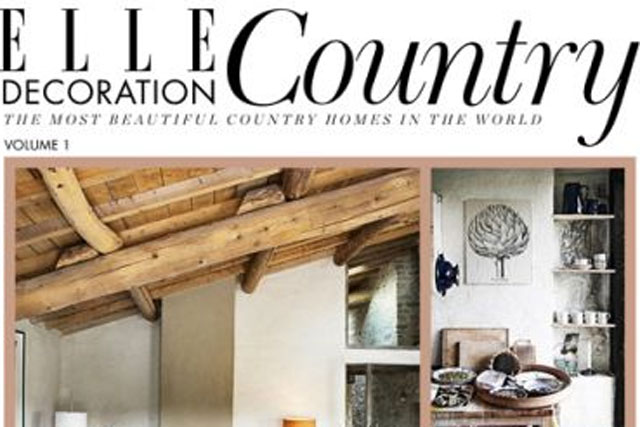 Elle Decoration Country is a bi-annual bookazine which runs to 260 pages. It is printed on matt paper with a copper foil-finished cover.
The title is edited by Elle Decoration editor-in-chief Michelle Ogundehin and produced by the same editorial and design team behind Elle Decoration UK, which itself is a brand extension of Elle.
Hearst describes the title as containing some of the world's most "spectacular" countryside homes.
Hearst claims that Decoration Country is a first in the market, dedicated not only to homes, but also to the "exploration of the romantic, personal joy of country life and style".
The bookazine retails exclusively at WHSmith for £9.99 and can also be downloaded as a digital edition for the same price on Apple Newsstand at www.elledecoration.co.uk/country.
According to Elle, the bookazine features "rich colours and textures", double page photographs, minimal words and a seven-page directory of country-relevant retailers. The first issue also contains a visual 'cribsheet' of essential components to help urban dwellers achieve their own Elle Decoration Country worthy home.
Elle Decoration editor-in-chief, Michelle Ogundehin, said: "The countryside connotes calm, fresh air, good living and relaxation. There you imagine you will be restored to your best self. And, with increasing numbers of people moving out of our towns and cities, we wanted to celebrate this idyllic vision of country life by showcasing some of the most beautiful rural abodes in the world. We hope our readers will enjoy Elle Decoration Country as much as we loved producing it."
Meribeth Parker, group publishing director of Elle Decoration, said: "We are committed to growing our portfolio and Elle Decoration Country is a natural extension for this popular brand. The bookazine provides a glorious and sumptuous showcase for our advertisers and we are delighted that so many great world-class brands have supported the first issue."
According to Hearst, Elle Decoration Country is among a number of newly launched print titles by the publisher. In the past year, Hearst has launched more than 35 bookazines and special branded spin-offs including Good Ideas by Good Housekeeping, Cosmo Beauty and Eat This Not That by Men's Health.
Hearst also intends to launch Esquire's Big Black Book in March 2013.
Earlier this month, Hearst UK hired Victoria Jacob-Luck as advertising director for its international sales offering, Hearst Advertising Worldwide UK.
Follow @nickbatten2