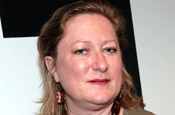 Bucknall will take responsibility for heading the planning function at Elvis, working alongside the recently hired head of data planning, Darren Burnett.
Her remit will span the agency's client portfolio, which includes T-Mobile, Virgin Holidays and Cadbury.
She takes up the newly created role in September, and will report to Elvis' managing partners, Mark Leversedge and Martin Semmens.
Bucknall left Leo Burnett last December, following the agency's merger with its sister shop Arc, which also led to the departure of its group chief executive, Bruce Haines.
Leversedge said: "Ali is a planning legend. She has vast experience, but is still hungry to push new ways of thinking. She is able to take a broader, more strategic view and will bring our pool of strategic talent together."
Bucknall said: "After 20 years' classical brand planning, I was excited about the opportunity to look at effectiveness and strategy through a different communications lens."

She joined D'Arcy, which later merged into Leo Burnett, in 1995 as its planning director. She was promoted to executive planning director in 2005, replacing John Poorta, who became the vice-chairman.