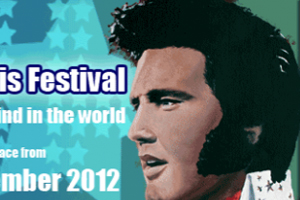 The annual Welsh jazz festival has been seeking a new promoter since the Hay Festival made the announcement in December. Hay held the event in a new format for three years since 2009 after the original promoter pulled out.
Peter Phillips is head of Xanadu Productions and runs the Porthcawl Elvis Festival which attracted 30,000 people last year.
He told Event he had teamed up with the Porthcawl Celtic Music Festival and submitted a formal expression of interest the Arts Council of Wales and Powys County Council, which are offering funding for Brecon Jazz.
Phillips told Event: "I'm probably overconfident. I'm sure there's going to be a backlash from the highbrow jazz people, saying this is the antichrist Elvis festival organiser coming in to run the jazz festival."
Xanadu Productions organises Tedfest, the Father Ted festival in Ireland, and is planning an Australian festival based around film Priscilla Queen of the Desert.
Phillips told Event: "We can make Brecon happen this year. We've only got six months to organise it but we can take it in the direction we see it, with a view then to expanding it the year after. We're used to putting festivals together with a short run-in."
Other parties to have expressed an interest in the jazz festival include Cardiff-based Orchard Media and Events.
Phillips told Event he wanted to work with the fringe festival that runs alongside Brecon Jazz, to return the main festival to its "hayday".
"It's sad to see the way Brecon has gone over the years," he said. "I think it went too corporate and too highbrow. I'm sure we'll be accused of dumbing it down but it's about putting more fun into it. Our model is a free festival, with more of a busking element with licenced stages around the town and very family-friendly."
He added: "The fringe festival has gone from strength to strength, so I think if no promoter steps in the fringe will happen anyway."
In a statement, Hay Festival said: "We have now fully completed our agreement with the Arts Council of Wales to rescue Brecon Jazz festival from its failure in 2008 and to deliver it in a new format for three years."
It added: "We are now focusing our work for 2012 on Hay in the 25th anniversary this year and on other developments in our home town."
To leave a comment register and let us know your thoughts.
Tweet