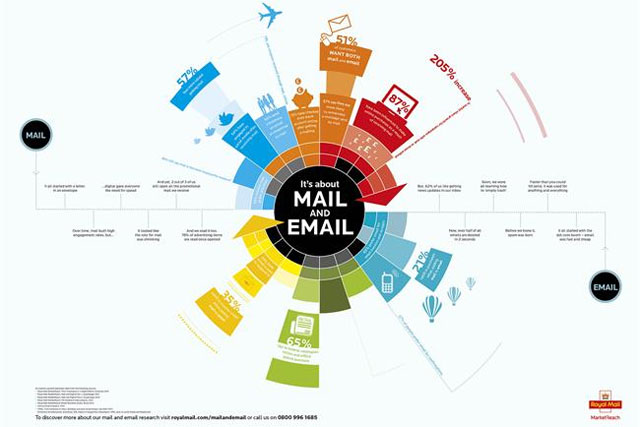 Email was the main direct digital channel back in 2007, when Royal Mail conducted its first research study into mail and digital. Now, consumers are also receiving a steady stream of communications through mobile and social media, and in the face of that, they are more selective and quicker to hit delete.
Amid all this change, mail's core strengths have increased, showing the enduring value it has for consumers.
Mail and email are not the same; each has different strengths and should be used for different types of communication. Consumers value email for being quick and informal – like an email in acknowledgement of an enquiry – and quick for the customer to receive, review and action.
Meanwhile, mail is authoritative and informative, so it's a better medium for sending communications they need time to consider, browse and enjoy.
Above all, at a time when so many of the communications received are through digital channels, consumers say that mail makes them feel valued. In fact, it makes them feel far more valued than email and even more valued than when the question was asked seven years ago.
Of course, the real question is not whether mail makes them feel valued, but whether it creates value. And here, the answer is unequivocally "yes".
Mail is an activation medium. Consumers open and interact with mail, which then drives digital behaviour such as visits to a website or social sites. What is more, the most digitally active consumers are even more likely to translate reading mail into digital action.
So using mail and email together opens up new responsive audiences – audiences that do not respond in the same way to email alone.
In fact, adding mail to campaigns improves performance substantially. Of campaigns delivering high sales performance, 27 per cent more included mail than those that did not. Also, when looking at campaigns that drove high acquisition levels, 40 per cent more included mail than campaigns that did not.
Campaigns with mail achieved over twice the market share growth than campaigns without mail in the mix, according to figures from IPA Databank meta-analysis conducted by Peter Field.
It all adds up. Mail and email together build better, more valuable relationships – something that our new campaign helps Royal Mail to set out clearly.