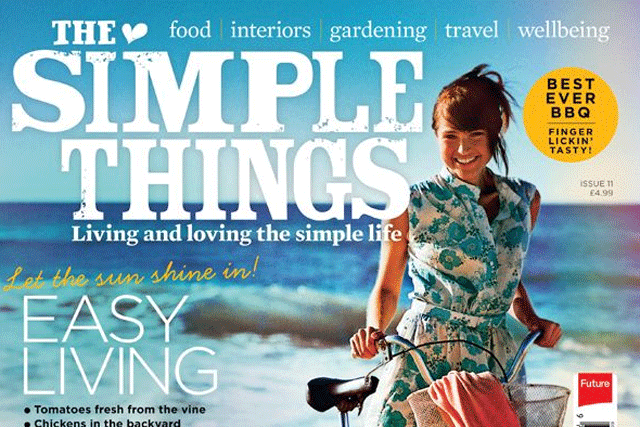 Launched in September 2012, The Simple Things has a reach of more than 110,000 and a target audience of 30- to 50-year-old women, according to the new publisher, but it is not currently audited by the Audit Bureau of Circulations (ABC).
The magazine will be Iceberg Press' first magazine brand. No one at Iceberg would comment on the terms of the deal.
Iceberg Press has been co-founded by former Hearst Magazines UK executives Guy Foreman, David Parker and Lisa Sykes, who will edit the title. The trio previously worked on Hearst's Country Living, Good Housekeeping and Prima.
Parker said: "We aim to bridge a gap, bringing the spirit and creativity of the independent publishing scene to a wider audience, using the skills and knowledge we have gained working for some of the world's biggest publishing companies."
The publisher has been trying to stabilise its business following a profit warning in March, which sent Future shares tumbling by as much as 35 per cent.
Future sold its craft and sport magazine portfolio, a quarter of its entire business, for £24 million earlier this year.
Immediate Media, which publishes titles including Radio Times and BBC Good Food Magazine, bought several Future brands including the website Cycling News and the craft publications Mollie Makes, Simply Crochet and Simply Knitting.