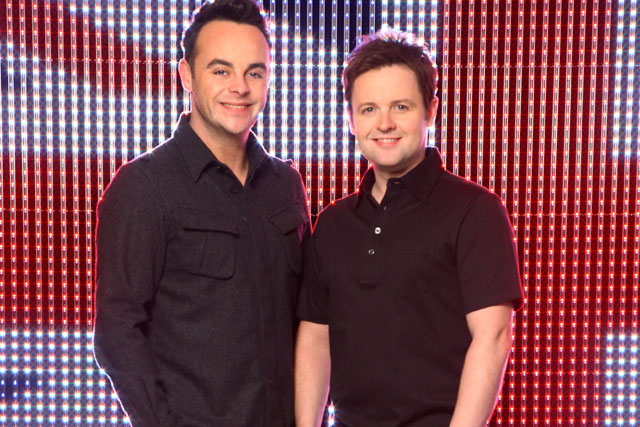 The deal, negotiated by Morrisons' media agency MEC, will involve the supermarket sponsoring 'Britain's Got Talent' and 'Ant & Dec's Saturday Night Takeaway'.
Morrisons will launch the TV campaign starring the presenters in February and will continue actvity throughout the year. Creative will focus on the retailer's specalist in-store butchers and bakers, which it is pushing as its point of difference to rivals.
The multimillion-pound activation of the Ant and Dec partnership will also include experiential activity, social media activity, mobile apps, in-store bespoke products and digital activity, including online and video content.
The announcement of the high-profile partnership comes as the supermarket prepares to reveal the results of a tough Christmas. Morrisons' house broker Jeffries is forecasting the supermarket's boss Dalton Philips will reveal a like-for-like sales drop during next week's Christmas trading update.
The supermarket parted company with chief marketer Richard Hodgson, who held the position of commercial director, in November, after concerns were raised by Dalton Philips, chief executive, about its fresh food proposition being insufficiently communicated.
Rebecca Singleton, marketing director at Morrisons, said: "Associating with 'Ant & Dec's Saturday Night Takeaway' and 'Britain's Got Talent', will allow us to demonstrate our points of difference in a way that has mass appeal and allows us to own the Saturday night food occasion.
Simon Daglish, commercial director at ITV, said: "This is a great example of what ITV can do for our customers and both our commercial team, and ITV's brand extensions team, can't wait to bring the shows and talent to life for Morrisons customers in-store and online."
Follow @mattchapmanuk