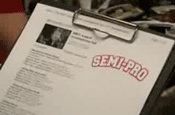 MirriAd, a leading embedded advertising provider, used new embedding technology to promote the new Will Ferrell movie,
Semi-Pro
.
Images promoting the film were subtly grafted onto showbiz content filmed by ITN On, the online division of ITN.
Mark Popkiewicz, CEO of MirriAd, said: "Online publishers have been searching for a way to advertise in online content in a way that does not alienate viewers and cause them to click away.
"MirriAd's embedded advertising inserts brands and images seamlessly into any kind of digital content - from online to movies - and can be targeted at any geography or demographic."
In the ITN content, a film board promoting the movie has been added behind a reporter talking about the Oscars.
In another film, the film's name has been grafted onto film of a reporter's clipboard.
Nicholas Wheeler, Managing Director of ITN On says: This is a revolutionary way of getting over the issues surrounding pre-roll advertising allowing consumers to enjoy the content without intrusion and the content producer to make money from a new advertising stream. "