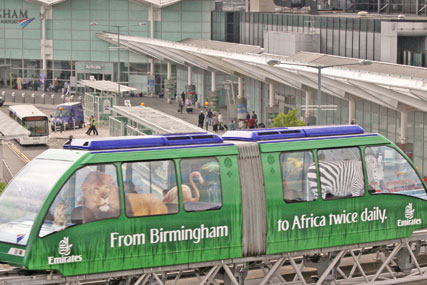 Emirates has two daily services from Birmingham Airport to destinations in Africa, Australia, China, the Far East and Dubai and hopes the outdoor activity will inform visitors to the airport who are not aware of the breadth of flights Emirates offers from the second city.

The creative work, devised by Chemistry Communications, includes internal and external wraps and internal digital outdoor ads on the AirRail Link trains.

For the first six months one train will appear to have a Chinese ceremonial dragon on board while the other will look like African safari animals are inside. After six months they will be replaced with creatives promoting Australia and the Far East.

Jason Foo, deputy managing director at Chemistry Communications, said: "What we have hopefully created is an ambient design that is both interesting and entertaining...just like Emirates' on-board product."

Conrad Clifford, vice president UK and Ireland at Emirates, said the creative aims to "raise consumer awareness of Emirates' twice daily service from Birmingham to key regions in its network in a very eye-catching and appealing way".

The campaign was planned and bought by Starcom and Kinetic and sold by Clear Channel Outdoor and includes a network of 18 backlit units along the exterior of the terminals.

Jane Ollier, director at Starcom, said: "The Birmingham AirRail Link is the perfect platform to raise awareness of Emirates' breadth of destinations flying out of Birmingham airport. The combination of AirRail Link, digital signage and backlit panels allow us to deliver this range message in a striking and compelling way."

Clear Channel Outdoor renewed its multimillion-pound contract to sell advertising at Birmingham International Airport for five further years in April last year.