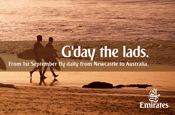 The airline has sent out an initial request for information to agencies ahead of a pitch. MediaCom currently handles the account, including the £3.5 million UK business.

The review is being handled by Emirates media manager Susie Hardie. It does not affect the creative account, which is handled by Leagas Delaney.

Emirates has told agencies that it is conducting the review to improve its coverage across the 80 countries in which it is present and to develop its use of media channels.

The airline is expected to increase its communications activity in 2008 as it moves into more territories.