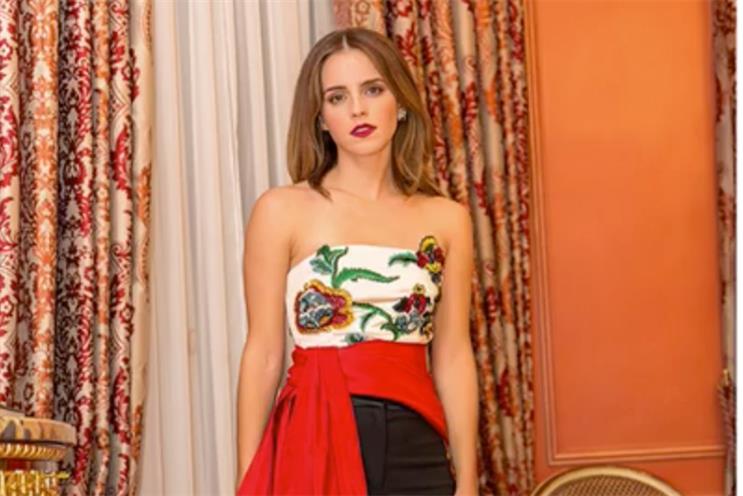 After witnessing the deplorable conditions of factory workers in Bangladesh, Emma Watson made a choice—to wear only sustainable fashion on the red carpet. Now, the actress, model and U.N. Goodwill Ambassador is using her celebrity to endorse fashion brands that use sustainable materials in a new Instagram account.
Brands that don't practice being eco-conscious won't find themselves in this feed or flaunted by the megastar, who currently has more than 23.6 million followers on Instagram.
Called The Press Tour, the account follows Watson and her fashion choices at all her publicity events leading up to the March 17th premiere of "Beauty and the Beast." Launched two days ago, the account only has three photos so far. Still, it already has more than 276,000 followers.
About to set off on day one of the @beautyandthebeast press tour with Team Watson... Hello Paris! Bonjour! I've started a new Instagram called @the_press_tour so you can follow our journey. I hope you enjoy seeing what goes on behind the scenes. It takes a village! Love, Emma
In the photos, Watson models clothing from Louis Vuitton, Oscar de la Renta, Burberry, Stella McCartney, Filippa K, Boody and Good Guys. In each post, Watson describes in great detail how each piece of clothing is made. For instance, in a post featuring a Louis Vuitton dress, Watson writes how the dress fabric is made out of recycled plastic bottles, saving energy and reducing CO2 emissions in the process.
Today was a brilliant day of interviews, press conferences and photoshoots for @beautyandthebeast in France. We snuck out of the junket and onto the roof of the hotel to capture these shots against the beautiful Paris skyline. Custom @louisvuitton dress designed by @nicolasghesquiere. The dress fabric is Newlife recycled polyester, created from used plastic bottles. These are sourced, mechanically processed and spun into yarns in Italy, with a fully traceable supply chain. This saves energy and reduces CO2 emissions compared to creating brand new polyester fibre. The arm band was created in a carbon-neutral mill. Dress validated by @ecoage #ecoloves
At the end of each post, Watson writes that the information is verified by Eco-Age, a consultancy that works with brands to craft eco-friendly solutions and positioning.
"The fashion industry is the second biggest pollutant of freshwater on the planet. It's not just enough for me anymore that it's a beautiful item or it's a beautiful piece. I want to know that it's not leaving a negative mark," Watson told CNN last May. "For me that's the future of fashion. What fashion can, and should be doing, is innovating."