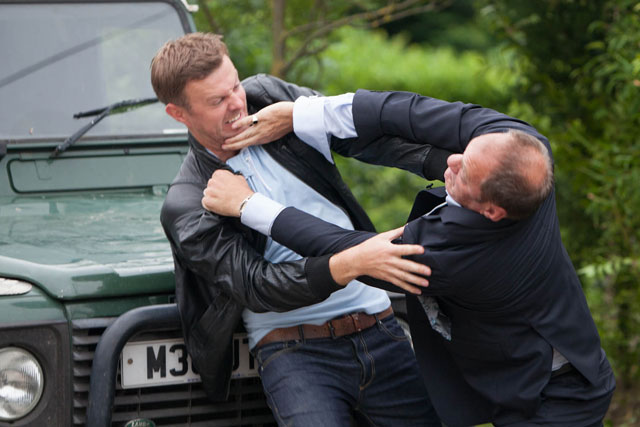 According to unofficial overnight figures, 'Emmerdale', which aired between 7pm and 8pm, commanded a 41.7% share of viewers and beat its previous 2012 high of 8.7 million viewers. It drew a five-minute peak of 10.2 million.
The special episode treated viewers to several moments of high drama, including the murder of Carl King, two weddings and two births.
Earlier on, coverage of the England vs Poland game, which was meant to be broadcast on Tuesday night but was cancelled because of a waterlogged pitch, averaged a share of 33.5% between 3.30pm and 6.10pm. Its afternoon scheduling meant that many fans were still at work and unable to watch much of the game. Accordingly, it audience figures peaked in its final 15 minutes, reaching 6.3 million, with a five-minute peak of 6.5 million.
Meanwhile, Channel 4's 100th edition of 'Grand Designs' drew 3.5 million viewers, including Channel 4+1, and a 15.8% share from 9pm to 10pm, and a 15-minute peak of 4.1 million.
At the same time over on BBC One, 'Who Do You Think You Are', featuring former England footballer John Barnes, attracted an audience of 3.4 million and a share of 14.9%. Earlier in the evening, from 8pm to 9pm, BBC One's 'Watchdog' drew an average audience of 4.7 million, a 21.3% share, and a peak of 5.2 million in its final 15 minutes.