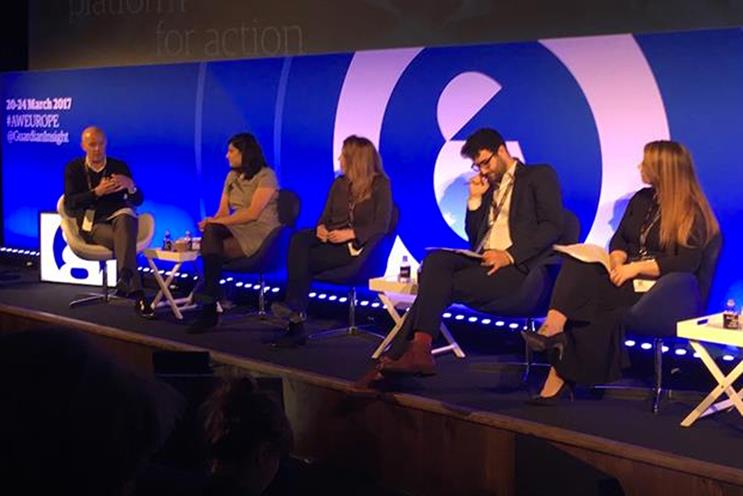 Karen Crum, McCann London's planning partner, articulated the recurring concern that "just because we can do it doesn't mean we should" in criticism of a recent Cannes Lions-winning campaign.
According to Crum, an Australian melanoma charity used Instagram targeting to find people who were at the beach and enjoying the sun. The charity used a bot to post "great day for melanoma" on their pages.
Fellow panellist and the Guardian political editor Anushka Asthana shared Crum's discomfort over the campaign's intrusive nature and described it as "creepy".
Crum said, while data has always been part of advertising it has now come too much to the fore, "like an over-excited bunch of puppies that has got into the living room and made a mess".
There was an echo of that complaint from panellist Ben Shimshon, founding partner of research consultancy BritainThinks, about the failed political campaign of Hillary Clinton.
Shimshon said: "Clinton's strapline was 'I'm with her', which wasn't about the American people, which wasn't about anything other than her as a candidate. And then her campaign had these very targeted retail offers to different groups such as tax breaks and supporting particular rights.
"Whereas Trump had 'Make America great again'. He had one big insight which was [that] there was a group of people who were very uncomfortable with globalisation… and that was his big message.
"I think there's a danger with the data stuff that moves you towards small things, and not thinking about the big uniting idea that brings lots of people together."
Rebecca Burchnall, head of consumer experience strategy at PHD UK, said: "In advertising, we've got a job to do in two parts. We've got to engage people at mass scale, to build a creative story.
"And where data plays a really valuable role is in connecting to the part of the purchase funnel that sits further below the line in the direct marketing space."
Guardian News & Media UK commercial director Nick Hewat chaired the session.