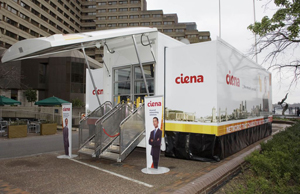 The Cheshire-based firm is staging the latest leg of the brand's international roadshow, giving customers a hands-on experience of Ciena's latest technologies.
The specially designed mobile innovation lab has been created to host workshops, presentations and training.
Over the next few weeks it will stop off in Dubai, Abu Dhabi, Riyadh, and Khobar before heading back to Europe, where it will showcase to 50,000 delegates at Mobile World Congress in Barcelona in February.
The campaign has already visited 31 venues in 11 European countries this year.
EMS client services director Justin Isles said: "This campaign has broken international boundaries by offering a truly personalised customer experience in each country, which has been key to its success.
"We are confident that our technology roadshows will continue to be in high demand in 2012. This is a growing market for us - our clients know the value of going on the road to demonstrate complex, high-value kit on the doorsteps of international customers."
To leave a comment register and let us know your thoughts.