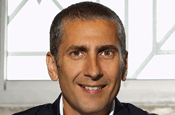 Toumazis will over see the worldwide commercial activities for the Endemol Group in a newly-created role.?

He has been recruited from his current role as executive vice president and managing director of Disney-ABC-ESPN Television.?

Toumazis said: "Endemol has a uniquely powerful network that combines a long-established presence in the world's biggest markets with a vast and growing library of multiplatform content."

At Disney, he oversaw TV licensing and distribution of ABC Studios programmes, including Desperate Housewives, Lost and Grey's Anatomy, feature films from Walt Disney Studios and Miramax and Disney Channel franchises such as High School Musical and Hannah Montana.

In his new role Toumazis will report to Ynon Kreiz, Chief Executive Officer of the Endemol Group.

Kreiz said: "Tom is an exceptionally skilled operator and couldn't be more qualified to lead the expansion of our commercial activities and growth of our distribution business, an area where we see significant opportunities."