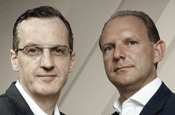 The new company, which will be headed by Lawrence Duffy and Gregg Oldfield, former executives at the sports marketing company IMG Sports Media, will specialise in developing live events and sports content such as magazine shows.

Duffy and Oldfield, the joint managing directors of Endemol Sport, will look to form partnerships with brands to fund and sponsor the content.

Duffy, the former head of development at IMG and BBC Sport executive, has worked on advertiser-funded content for brands including Nissan and Red Bull.

Oldfield has spent eight years at IMG creating sports marketing programmes for brands including Nokia, O2 and Fujitsu-Siemens.

Endemol hopes that the company will build on its new presence in the sports marketing world. It has just launched a football channel in the Netherlands called Eredivisie Live, and will now look at opportunities in other markets.

Based in London, Duffy and Oldfield will report to Ynon Kreiz, the chief executive of Endemol.

Duffy said: "Creating unique content across multiple platforms is what Endemol is known for and that's exactly what Endemol Sport's purpose will be."