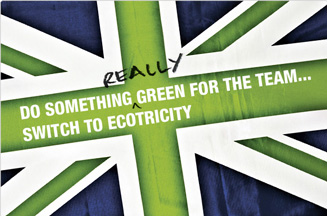 The company has launched national ads with the tagline, 'Do something green for the team ... switch to Ecotricity'.
It mirrors EDF's message for its national initiative which asks people, including schools around Britain, to 'do something green for the team'.
Ecotricity has also claimed the French energy giant has appropriated its green union jack logo to front its Green Energy Day campaign.
EDF's Green Energy Day is today. The company has teamed up with gold-winning Olympian Victoria Pendleton to promote the initiative. It is running a host of ads and cover wraps in national press.
Yesterday, British Gas launched an attack on EDF Energy's Green Britain Day with an advert stating 'Green Britain Day. For us, it's everyday.'
Competitor Npower also plans to roll out a tactical press ad for its educational programme Climate Cops, featuring the strapline 'Every day's a green day for Climate Cops.'