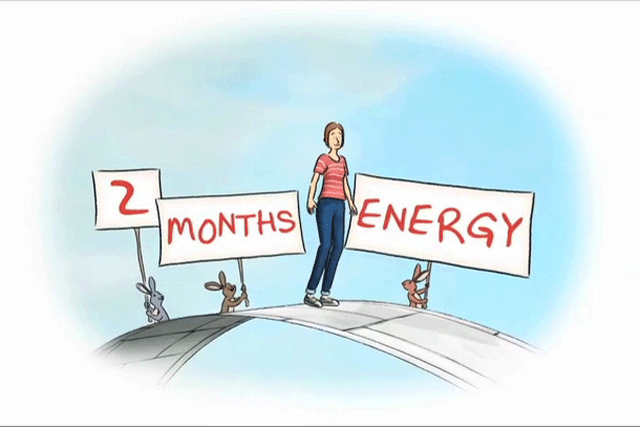 Few topics guarantee as much cheap applause for politicians as the castigation of energy companies. Energy secretary Chris Huhne launched a full-on attack last week, followed swiftly by a blast of rhetoric from Labour leader Ed Miliband. 'Let's call a rigged market what it is and get a fairer deal for the people of Britain,' he said at his party conference last week.
Public discontent is also being fuelled by grandstanding from Alistair Buchanan, chief executive of industry regulator Ofgem. He turned to boxing metaphors, claiming that energy companies would be 'on the canvas'. Ofgem had delivered 'a left hook' with its ultimatum in March, he added. This gave the 'big six' suppliers two months to reform their operations or face a full-scale competition enquiry. Buchanan insisted the energy firms must reduce the confusing array of tariffs.
It is fair to say, then, that energy has become something of a 'political football', in the words of Npower chief executive Voker Beckers.
E.ON marketing director Jeremy Davies echoes his sentiment. 'It is not going to be easy, with politicians and journalists leaping onto the sector and talking about the abuse of power and profiteering,' he says.
Nonetheless, the prospect of another long, harsh winter, compounded by recent price hikes from all the main suppliers, combined with continuing financial pressure on consumers, mean that energy companies face one of their toughest-ever marketing challenges.
Now E.ON is striving to build 'trust, knowledge and engagement' among customers with the launch of the first tariff under its 'energy fit plan'.
In a development more akin to club-membership marketing, E.ON is offering two months of free energy to consumers who sign up to the two-year special tariff. The proposition will be backed by an integrated campaign, kicking off with a TV push breaking on Saturday.
'We have a customer panel of 28,000, whom we constantly talk to; this tariff is something they said they would support and wanted,' says Davies.
He believes there is a 'legacy of lack of trust in the sector', which all the energy suppliers are now committed to addressing (see box, below).
British Gas has recognised the need to modernise while maintaining its brand equity. It has updated its visual identity for the first time in 17 years. However, the supplier is trying to roll out the design change at zero-cost to avoid hysterical headlines about a costly rebranding exercise.
The soft-launch of its updated logo coincides with an initiative, due to launch early next year, allowing British Gas customers to go to its website to find the cheapest tariff for them - another attempt to improve transparency.
'Consumers find the world of energy quite confusing. With these rising costs they feel pretty sore toward energy companies,' admits British Gas marketing director, Will Orr. 'We know these are tough times for our customers, so we're trying to keep things simple and help as much as we can.'
Focus on simplicity
The other major suppliers, EDF and Npower, are also preparing their marketing for winter, balancing the need to promote their products and services with responding to consumer concern.
EDF has simplified its tariff structure and suspended unsolicited door-to-door selling because it says it is 'committed to providing as much simplicity and transparency as possible'.
Npower, meanwhile, has introduced a 'Winter Fix' tariff that freezes prices for two years and offers a £40 discount on signing. A spokesman claims its roll-out was the consequence of understanding 'these are difficult times for consumers'.
There's little doubt that being a marketer at an energy company is an unenviable job: defending price rises against a background of big profits.
Politicians, meanwhile, will continue to use opposition to this as an easy way of winning public support.
However, Orr claims that government policy is one of the reasons for price rises. 'Wholesale prices have been rising for many reasons, but there are also rising costs, including those relating to government carbon-reduction requirements and transport,' he says.
'We are trying to explain in simple terms the dynamics at play in the market,' he adds. 'We want to have an adult conversation with customers about the future of energy in this country.'
INSIDE VIEW - THE IMPORTANCE OF TRUST
- Jeremy Davies, marketing director, E.ON
The energy sector at the moment is one-dimensional, transactional and commoditised and has price as the key component. The reality is that we want to be able to provide a broader range of products and services that take us beyond transactional relationships with customers.
If we come and fit 10 solar panels on the roof of your house, which will be there for 25 years, that requires far more trust than us piping a commodity into your home. Will you trust us to go on your roof, then manage that relationship for 25 years? That entails a different kind of relationship from the one that has existed in the past. That's why, in expanding our products and services, we are very keen to make this change.