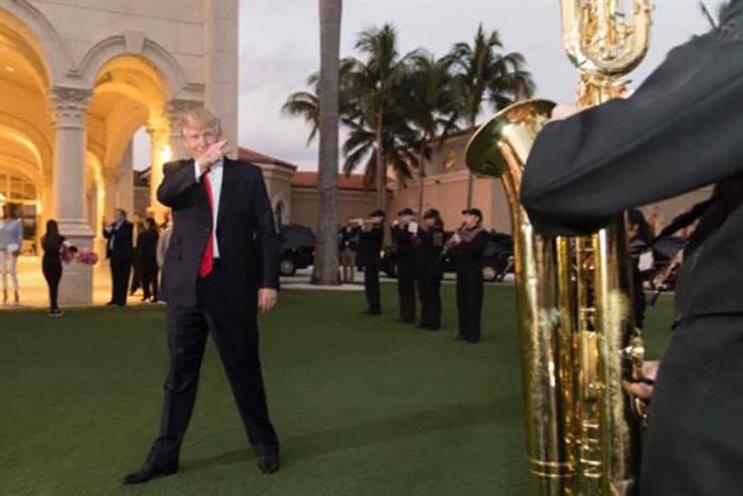 Major companies are adding a scenario to their crisis-response plans: what to do if they are the subject of a fake news story or "alternative fact" that gains traction on social or digital media. Yet experts say few clients are prepared if the source of the misinformation is none other than President Donald Trump, whose personal Twitter account has 24.5 million followers.
In terms of fake news, clients had been mostly worried about websites posting sensationalistic content and conspiracy theories dressed up as real news with the purpose of driving ad revenue with clicks. Many such sites gained notoriety during the presidential election, even ensnaring brands, such as Washington, DC, restaurant Comet Ping Pong.
Companies are beefing up their digital and social media monitoring to include fake news sites while fleshing out their rapid-response plans. They are ready to set the record straight by using new tools, including one that flags a story as inaccurate to the social media giant. Experts note a new policy prevents articles in dispute from being used in paid campaigns.
However, crisis communications experts contend clients should take a different route if the attack comes from Trump or another administration official. They note Trump has pushed out fake news on his Twitter feed, most famously that widespread voter fraud is the reason former Secretary of State Hillary Clinton won the election's popular vote.
His spokespeople have also made statements that were either misinformed or purposefully misleading. Last week, White House counselor Kellyanne Conway cited a terrorist massacre in Bowling Green, Kentucky, that never happened to defend the president's executive order banning travelers from seven Muslim-majority countries.
Experts say clients must also be ready for Trump or a member of his administration, for whatever reason, to brand them as peddlers of fake news or alternative facts. While he has mostly reserved that characterization for mainstream media outlets such as CNN and The New York Times, it is conceivable brands could be painted with the same brush given how many have become publishers in their own right.
To engage or not engage?
Gene Grabowski, partner at Washington, DC-based communications firm kglobal, cautions clients against engaging or sparring with the president publicly, especially if a brand's audience crosses a diverse political spectrum.
"There are few times, if ever, a silver bullet works in a crisis, but this one time there is one: make Donald Trump feel like the winner he believes he is. You tweet back, 'He's right, he's nailed it, he's onto something,' because whether it's his narcissism, egomania, or whatever it is, he must be affirmed," says Grabowski. "So when your company finds itself in a situation being criticized, commented on, or even attacked by Trump, find a way to make him look like the hero of the story, and he'll go away."
He cites Ford as an example. Trump took credit in a tweet for the automaker's decision to keep a plant open in Kentucky instead of moving it to Mexico, even though Ford reportedly had no plans to close the plant. Still, Grabowski notes the automaker didn't release any statements, on social media or otherwise, countering Trump's claim.
"Trying to get into an argument or quarrel with him is a mistake—he is a master of Twitter," says Grabowski.
This week, Nordstrom found itself on the receiving end of a tirade. Trump attacked the retailer for what he called "unfair treatment" of his daughter Ivanka, after the company pulled her fashion brand from its department stores.
"My daughter Ivanka has been treated so unfairly by @Nordstrom, tweeted Trump from his personal @RealDonaldTrump handle. "She is a great person – always pushing me to do the right thing! Terrible!"
Nordstrom said in a statement that the decision to stop stocking Ivanka Trump's line was strictly non-political and the store treated the first daughter and her team respectfully.
"We had open conversations with them over the past year to share what we've seen, and Ivanka was personally informed of our decision in early January," the company said. Ivanka Trump's spokespeople have denied that account.
Grabowski says the retailer's response may turn out to be a non-issue, noting that Nordstrom caters more to high-end shoppers in places such as Los Angeles and Washington, DC, than Des Moines, Iowa. However, the company still got itself into a he-said, she-said war of words with the president.
"It may have been even better for them to say, 'Mr. President, we hear you, but just like you, we're businesspeople, and we made this decision.' And then leave it at that," Grabowski says.
Sean Fitzgerald, MD of Ketchum's corporate and public affairs practice for North America, agrees, saying, "It may have been better for Nordstrom to let it fade away."
He says brands should assess whether any response is needed by looking at the issue analytically and trying to keep emotion out of it.
"This is where you have to take a step back and a deep breath, and really ask yourself objectively, 'Is this something that will truly jeopardize my reputation and business? Will this have legs?'" he says. "If the answer is not so much, we recommend our client ignore it even if it makes them uncomfortable because it is a fleeting situation. You can cause more trouble for the brand by throwing yourself into the conversation when you don't need to."
Other brands have tried to correct Trump, such as General Motors on the topic of a vehicle the president claimed was being made in Mexico for sale in the US.
Molly Washam, a senior strategist for campaigns and content at Blue State Digital, agrees clients have to pick their battles and should think twice about reacting to trivial matters. However, she says if the administration or a fake news story challenges a brand's essence and character—such as its record on the environment or human rights—it should not turn the other cheek.
She notes a company standing up for its core beliefs—even if it happens to be against the president of the United States—could be a positive for its internal culture and have other beneficial business outcomes.
"People on both sides have been empowered to vote with their wallet," says Washam, noting the grassroots campaign #GrabYourWallet. "Brands who do stand up when it makes sense to do so can increase their reputation."
Plus, she says brands that have strong beliefs are more likely to have a community of fans "willing to go to bat for them when the moment strikes."
Burson-Marsteller US CEO Mike Fernandez says brands should be ready and willing to engage Trump, though he concedes the position would make many companies uncomfortable.
"I think all too often people are gun-shy because they don't want the incoming," he explains. "A lot of companies are almost afraid to deal with government anyway, but it is important for them to stay engaged at all levels."
He adds that a company "really needs to know who they are" and "what their terms of engagement are" before taking on a Trump tweet or stance. Fernandez applauds Nordstrom's response, noting the company's stock price went up afterwards, but says companies must analyze what they have to gain and lose before reacting.
"Some companies, for example, have been very concerned about what has happened with immigration and have spoken out on their perspectives, because they see it as vital to their way of operating," he adds. "Companies need to act in a way that is in the best interest of their stakeholders—employees, customers, and in some cases, their suppliers, because they may take on a different position than the government."
—This story first appeared in PR Week.