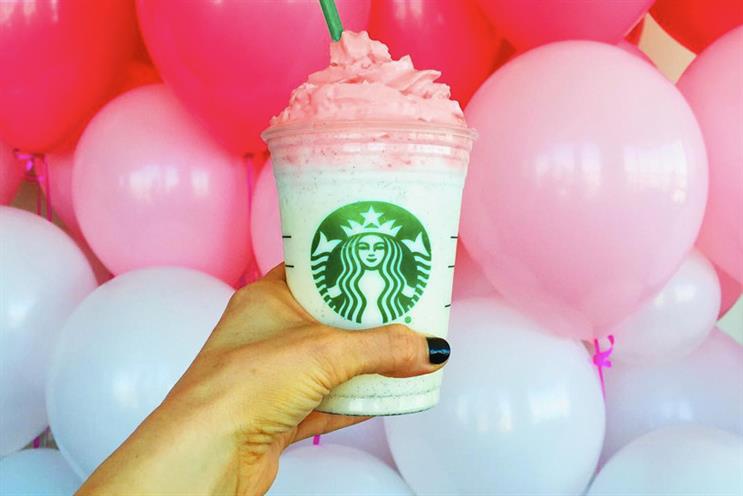 There's no doubt consumers love deals, and last week brands tapped into that. Posts that made the most impact on social media offered promotions and giveaways, motivating followers to share the post or tag a friend to pass it on. Starbucks, Häagen-Dazs and Bose are a few of the brands to see high levels of engagement on their Facebook, Twitter and Instagram posts, according to Unmetric.
Unmetric, a social-media intelligence firm, uses an analytics platform to track brands with the highest amount of engagement for posts on Facebook, Twitter and Instagram. Unmetric's engagement score rates each post from 0 to 1,000, depending on the amount of user interactions.
Here are the posts that reached an engagement score of 900-1,000:
Starbucks
Happy Birthday Frappuccino!?? We're celebrating with ?early access? to #FrappuccinoHappyHour for all Starbucks Rewards members starting today from 3-6pm! Which calls for more celebrating! #BirthdayCakeFrappuccino #??
Celebrating the Frappuccino's 21st birthday, Starbucks reintroduced the Birthday Cake Frappuccino to its menu for five days starting April 28. This Instagram post of the special Frappuccino held in front of pink and blue balloons garnered 235,000 likes and 2,731 comments on Instagram. The post announces early access to "#FrappuccinoHappyHour" for Starbucks Rewards members.
---
1915
Feeling like some coffee, vanilla, or chocolate protein? WIN a prize pack of them: tag a friend with #sweepstakes for a chance for both of you to win! We'll randomly select a winner tomorrow, so check back for our reply! One entry per person. No Pur Req'd. Legal Residents of U.S. 18+. Void where prohibited. For full #sweepstakes rules, go to http://bit.ly/BHFsweeps
In this Instagram post, organic brand 1915 publicizes a chance to win a prize pack of its new vanilla, chocolate and coffee protein shakes along with a picture of the shakes laid out in two rows of four. The post tells followers to tag a friend in the comments section with the hashtag "#sweepstakes" for a chance to win and to check back for the winner. This post received 577 likes and 193 comments.
---
Lush Cosmetics
To promote its new space-themed gift package, Lush Cosmetics posted a picture of a tie-dyed gift with a tag reading "Astronomical" surrounded by bath bombs and wrote "Our #freshnewlush gifts are out of this world." The post received 82,000 likes and 1,332 comments. In the majority of comments, people tagged their friends.
---
Häagen-Dazs
Scoop after extraordinary scoop on us. Find a shop here https://t.co/7vc3IzpazQ and come celebrate #HDFreeConeDayhttps://t.co/XiJoeuwwRd

— Haagen-Dazs (@HaagenDazs_US) May 5, 2016
In a tweet that generated 2,239 likes and 1,114 retweets, the ice cream brand posted a video of someone continuously scooping from a tube of what looks like Rocky Road. The tweet promotes the brand's free cone day on the fourth of May with the hashtag "#HDFreeConeDay" and a link to find a Hagen-Daazs shop.
---
Bose
RT for a chance to win the same #DraftDay Backpack given to #Bose rookies! Rules: https://t.co/eSl2Pkqlpv #NFLDraft pic.twitter.com/v0XXsbHNph

— Bose (@Bose) April 28, 2016
Last week Bose capitalized on #DraftDay by presenting a chance to win a backpack that the brand gave to new drafts of the NFL. The brand asked followers to retweet the post, which eventually received 356 likes and 1,884 retweets.
---
Emilie M Handbags
For its annual Mother's Day sale, Emilie M Handbags posted a photo of two handbags accompanied by an invitation to engage with the post. It told followers to like and share the post, visit the brand's website and comment on which bag they would like to win. The brand later commented on the post with the winner announcement. The picture in the post also promoted a buy one, get one free deal on handbags. The post got 2,700 impressions, 737 shares and 562 comments on Facebook.
---
Ledo Pizza
This post on Facebook got 1,800 impressions, 1,971 shares and 1,900 comments for a Ledo Pizza giftcard giveaway. Ledo Pizza asked followers to comment and share the post by 11:59 PM EDT on April 29 to be entered to win a $100 giftcard for one winner. The pizza brand later commented on the post with the winner. That's a lot of love for a giftcard.