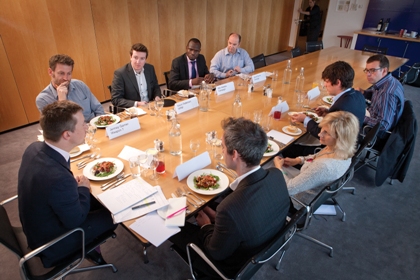 Media fragmentation, new and evolving techniques, and the fast-moving target that is today's consumer make the job of the modern marketer (and his or her agency) tougher than ever.
In the interactive age, marketers and agencies increasingly talk of engaging with consumers, rather than directing marketing at them. But what is engagement and how can brands become more engaged with consumers? These were the central themes tackled by the authors of the essays that follow, when they met for a roundtable lunch debate at Campaign's offices.
James Middlehurst, the managing partner at the integrated agency MBA, kicked off with the assertion that engagement was a new name for something brands had always sought to do in terms of building a relationship with customers. By providing entertaining and useful content, consumers would hopefully be happy to continue to receive communications.
"What has changed is there are more channels to provide it, so the challenge is to repurpose your content. You can't republish a Tweet on Facebook. You have to take more time and nuance the messages," he said.
Some clients are reluctant to publish sales messages on Twitter because the endgame of building a relationship is more important, he added.
Edward Weatherall, the commercial director of the Institute of Direct and Digital Marketing, said companies such as Dell are using Twitter successfully because they have built a community that wants that interaction.
For e-mail marketers, activity often has the harder edge of acquisition. Kevin Patterson, the international sales manager of the e-mail list company WRM Media, said that what happens in other channels affects consumers' attitude to e-mail. A more rounded communication strategy makes it easier for e-mail to achieve cut-through, as consumers appreciate what a business is trying to do. "At the moment, it's pure acquisition. I don't open all the e-mails I subscribe to because sometimes I don't want to be sold to," he admitted.
Philip Smith, the head of content solutions at the Brand Republic Group, noted that "interactivity" and "engagement" are often used interchangeably. Are they the same thing?
Weatherall thought not: "People can interact with an exciting message, but it doesn't mean they're engaged. So mobile apps are now being measured by how long users spend with them and how often they come back, and not just by downloads. "
Communications are now more interactive, but Middlehurst said: "Relationships are synonymous with engagement, and interactivity is simply a technique to achieve it."
Of course, not all brands can count on active engagement, the classic example being grudge purchases such as life insurance. In these markets, brands have to think carefully about what is appropriate and it may make more sense to concentrate on how the call centre handles customers than the latest whizz-bang digital technique.
Yet, even here, the bar is being raised by brands such as Comparethemarket.com, which has found a way to achieve engagement through its meerkat brand ambassadors. It's not a new idea, and not even new in insurance, where character-based campaigns have been run by Churchill and Gocompare.com, among others.
But the meerkats have taken it to new levels of engagement, Middlehurst said: "It's a great ad that gets standout in a market that doesn't have standout, but it's the other stuff that makes it clever. There's a website where you can learn about meerkats and you're engaging with the brand on a subliminal level. Consequently, you like it and feel good about insurance - not something that usually happens."
Some brands just don't get how they should be using social media, where the opportunity to come unstuck is huge. Weatherall pointed to BP's Twitter feed as an example that failed to accept how the channel operates. Rather than engaging in conversations about what had happened in the Gulf, BP's output seemed to gloss over environmental issues, he said.
People understand when they are being manipulated, Jeremy Garner, the creative director of Weapon7, noted: "Knowing what is a conversation starter is key, but so is knowing when to let the conversation be self-moderating and just dipping in occasionally."
At WRM Media, the managing director, Paul Kemshell, said his company sits in a delicate space because people engage with its websites, such as Who-remembersme.com, but the business makes its revenue by selling consumer data. "You've got to get the balance between brands that are paying us and selecting carefully so users don't disengage with our core brand. We can't afford to lose active site members because we've tried to sell them the wrong product," he said.
For brands, too, engagement has become a commercial imperative. The mobile industry now has standard 24-month contracts and operators spend that time making sure that customers sign up for another 24 afterwards.
People used to churn on drop-out calls, Weatherall said: "Now it's on which festivals or venues you get tickets to. For example, O2 has Priority Moments and Orange has cinema."
As people are online for large amounts of time, there's the opportunity to engage constantly, but it has to be at the right time and in the right way. And brands have to get used to the idea that they can Tweet something and lose thousands of followers or unleash a mass of negative comments.
For all the cuddly talk of engagement as a dialogue between brand and consumer, it ultimately boils down to a data exchange. For companies' communications to be more targeted, they need more information - and that's when customers start getting jittery.
"Consumers want more targeted advertising, but if they knew the amount of data they are giving away, they would panic," Weatherall noted.
Data doesn't always equal insight. Middlehurst explained that, after buying a book on healthy eating as a gift, he received recommendations on books about body-building: "Someone's misinterpreted the data and it disengaged me and came across as intrusive. That's where the onus is on brands to be slightly more selective and pull the reins back. There is more data available so you must tread with caution, which is counter-intuitive for marketers."
Next year will see the introduction of European Union cookie laws that will clamp down on activities such as retargeted ads. "Soon we'll have to opt in for this information to be passed to advertisers. People will understand more about what's happening and there will be a massive disengage," Kemshell said.
As well as concerns about data, distraction is another issue for marketers to contend with. Although consumers are online for more time and are potentially more available to be targeted, brands are fighting for their attention and their concentration.
"It used to be said that you should teach in 30-minute slots because that was the average time between ad breaks," Weatherall explained. "Now you have to change things every seven minutes to keep people engaged because of people's attention span and reliance on gadgets."
With more channels and more touchpoints, such as tablet computers, people are more likely to be distracted, Garner added. People are addicted to engagement, as shown by the relentless urge to check Facebook status updates and mobile e-mail. But it is engagement on their terms and it's all about their lives.
"People can see their lives as a story across thousands of touchpoints," he said. "When we are battling for people's attention, we are battling against other media but also their own addiction to engagement. They are keeping up with their own story. The challenge for brands is how we can fit into the story of their lives and to be relevant."
Weatherall named Nike+ as a great example of this. It helps runners by supporting them with tools such as running plans, events and forums. It's then easier to communicate with them because the brand owns space and owns the moment. Last year's Nike Grid, where runners competed to "collect" as many BT telephone boxes as possible, also showed how the brand was on runners' wavelength. "Nike understood the inherent competitiveness of runners. It's way beyond being sold to," Garner said.
Such innovative approaches to communication demonstrate the new lengths clients have to go to in order to engage. It's a hyperconnected world, and notions of what works are changing all the time. More conventional, one-dimensional channels are less likely to drive engagement these days, Middlehurst stressed: "Direct marketing always used to be the great tool for relationship building, but that's been superseded to a degree by digital channels that offer the same depth and take people on a journey."
Traditional media still has a place, but as part of an intricate network of communications that must work in harmony. Rather than repurposing the same content across every channel, messages have to be appropriate to the media and complementary.
Even one-dimensional TV is becoming interactive by dint of the social media whirl that accompanies destination viewing such as The X Factor. Organisations can feed into this with clips, video and commentary, but they have to join up with other activities.
"You shouldn't start a conversation with 'we're going to build an app'," Weatherall said. "You have to be clear about who you're going to talk to, what you're going to talk about and whether they want to hear from you."
In other words, genuine marketing insight has to inform strategy. Weapon7 produced a campaign for hardcore gamers that was based on the observation that they loved sharing things of value with their peers, such as tips or snippets of information about a game. The successful campaign urged players to solve clues across many touchpoints and engaged with their competitive streak.
But how can companies measure their success and how can marketers justify spend to the financial director?
Contrary to the idea that marketing is now all about quick wins, Middlehurst said that building up trust can be a long game, with sales gains not immediately apparent.
"Our clients who use Twitter and Facebook aren't delivering sales messages yet," he said. "There's a whole variety of metrics and the jury is still out until you get to where you can quantify the sales return. You can look at 'likes', followers and fans, but how meaningful are they? We've got to be patient in looking at these things."
Success looks different for every company. T-Mobile measured the success of its flashmobs in metrics such as PR coverage and footfall into stores. Agencies are more on the ball about this than clients, Weatherall said, as they have to prove themselves more.
For Kemshell, the measure of success is associated with the cost of failure: "We've gone through an exercise to show the cost of an unsubscriber. Consequently, we measure disengagement more."
It's not surprising to hear that data is an ever-more precious resource. Weatherall said marketers had to realise they can't always have all the data they want: "They can't e-mail the whole database. It costs a lot of money when you lose someone. Rather than having a short-term view, we're educating insight teams to ask the right questions, become the compliance people and to have a bit more power."
According to Kemshell, disengagement kicks in very quickly. "We reckon you've got four attempts at marketing to them before they say 'stop talking to me'," he said.
From engaged prospect to disenchantment in just four e-mails - what a sobering thought.
LUNCHERS
Philip Smith head of content solutions, Brand Republic Group
Jeremy Garner creative director, Weapon7
Kevin Patterson international sales manager, WRM Media
Ade Adefala account manager, Campaign
Stuart Derrick journalist, Campaign
Paul Kemshell managing director, WRM Media
Edward Weatherall commercial director, Institute of Direct and Digital Marketing
Suzanne Bidlake consultant editor, Campaign
James Middlehurst managing partner, MBA.
From Campaign's What next in engagement supplement Novemeber 2011