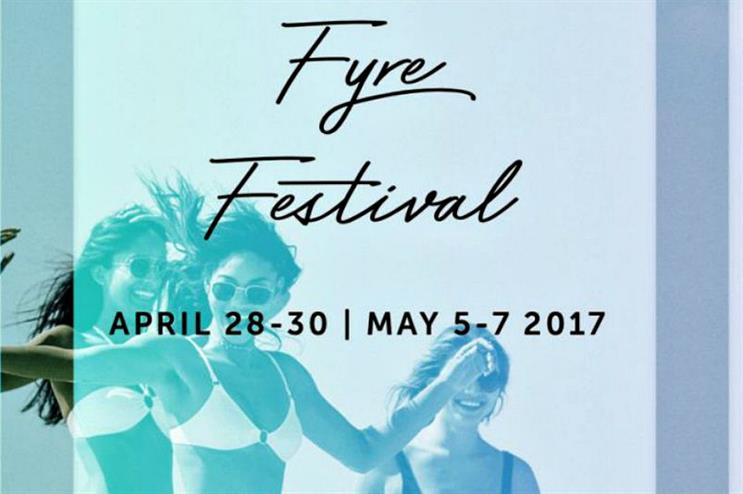 Dear Ja Rule….
Honestly, WTF Bro!?
This was our initial response when the now famous Fyre Festival fallout began filling up our social media feeds.
It really is an almost unbelievable tale of manipulation and mistrust, spawned by irresponsible and possibly knowing mismanagement of investment funding. A right royal p*$stake if you will. But this tale has been widely told so there really isn't much point going into the details here of what has happened and the various take's on why. Instead we should take a moment to look at what might this mean for the industry moving forward. What can we learn from this? How do we reassure and retain the trust of our event goers and festival revellers who may be looking at this and thinking "How can such well known names get this so wrong? Who can be trusted?".
Firstly, a major focus for the lawsuit that Fyre Media are now facing is advertising misconduct. Going against the FTC guidelines on influencer marketing and paid posts at such an overt and epic level has given the US regulatory body the most heavily loaded gun to now go after brands that violate and bend the rules in this increasingly important space for marketing. Not only will this be held up as reason for going harder against this channel of communications to protect the American people, it will be used to influence wider global regulation, inevitably making it an even tighter landscape to achieve authentic, relevant and credible visibility for our client brands, products and content.
Let's be honest, the very same influencer strategy is used wide and far and it is only because of the epic failure to deliver the goods that such scrutiny is being placed on this specific story. It really isn't an issue of Influencer Marketing strategy, but a warning shot for aspiring entrepreneurs in the events and festival landscape.
When it specifically comes to events, the Urban Nerds view is that there is a distinct line between driving awareness and delivering a call to action. Both can be handled distinctly differently. The latter should be role of contracted promotional partners, artists and talent involved with the event. The former, in our experience is naturally occuring amongst the consumer as they actively take to social in rallying up friends, celebrating ticket purchase and of course the barrage of social updates that flow from such experiences.
There exist a number of grey areas in social media promotion and endorsement, and while trust from the consumer is key our stance is that solid planning, tight contracting and continued engagement with both the consumer and the contracted partners is a must for there to be solid trust and ultimately understanding should a genuine, unforeseen disruption to delivery occur.
Ultimately none of the above can truly safeguard and ensure the delivery of an expected experience, but hopefully the more consumer minded professionals amongst us will be incorporating wider themes from consumer culture such as transparency and honesty in order to carry your target consumer on a genuinely insightful journey from inspiration, to purchase and physical experience and forward sharing and social endorsement.
Lastly, Mr. Rule, what a shambles mate, best if you leave this Fyre extinguished.
Yours
Urban Nerds
More: Fyre Festival - a launch campaign in search of a festival
For your daily hit of news from the brand experience community, weekly brand and inspiration updates or your monthly trend download, register and subscribe to Event and our bulletins.
Comment below to let us know what you think.