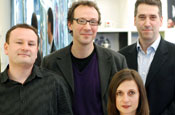 Under the terms of the acquisition, the group has made an upfront payment in cash, in exchange for 100 per cent ownership of EGS.

There is no earn out arrangement, but the founding partners Jez Groom, Pete Edwards and Will Saunders are expected to be tied into the business for the foreseeable future.

The deal was signed yesterday, almost exactly one year after Engine bought Partners Andrews Aldridge in a deal worth around £18 million.

EGS's last filed figures at Companies House, for 2006, revealed an annual turnover of £349,475 and operating profit of £122,650.

In the next month, EGS - whose clients will include Nando's, Channel 4, Ilva and William Hill - will move to Engine's offices Great Portland Street.

The acquisition adds a communication planning specialism to Engine's 14 companies.

Debbie Klein, Engine's joint chief executive, said: "Increasingly, clients are asking us to take an overview of their entire marketing budget, and so communications planning will become a central part of the Engine offer."