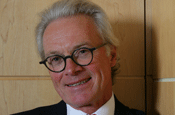 The move adds weight to speculation that the company, the owner of WCRS, is gearing up for flotation on the stock market, as Loudwater Trust has a track record of preparing companies for IPO (initial public offering).
However, other sources say that an IPO could still be up to three years away, because the group needs to make a number of acquisitions first.
On the back of this cash injection, Engine plans to invest in businesses in new media and corporate and financial PR. It is also in talks about an office move that could see its nine group companies relocated into one building in Great Portland Street by spring next year.
The deal will be approved at an extraordinary general meeting in September. Richard Wyatt, the chief executive of Loudwater, will join a company board that currently includes WCRS founders Peter Scott and Robin Wight; lobbyist Adele Biss and Ed Eskandarian, chairman of Arnold Worldwide.
Engine has been on an aggressive acquisition drive over the last three years. Most recently, it acquired the digital agency DC Interact and brought it together with existing digital agencies Eyefall and Meme under the Altogether brand. It also owns the PR agency Slice, stakeholder communications agency Advocacy and lobbying agency AS Biss & Co.
The company was founded in 2004, when WCRS completed a management buyout from Havas. In 2005, it rebranded as the Engine Group.
Engine posted revenues of £25.7 million in 2006 and has forecast revenues of £40 million in 2007.