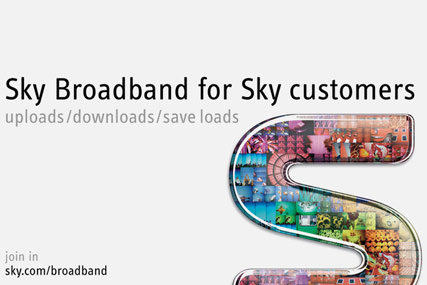 Engine will now create an integrated advertising campaign, to be rolled out later this summer, that will aim to relaunch Sky's broadband offering in a bid to gain greater market share from its rivals.
The campaign will consist of TV, digital, outdoor, press and radio work, and will be based around Sky's new "simplified" broadband proposition, using the strapline: "Broadband happily ever after."
Recent campaigns for Sky Broadband have been price-led, offering consumers free broadband for a certain period of time if they sign up to one of Sky's TV or home phone packages.
Around 2.5 million people in the UK use Sky Broadband, with 101,000 consumers joining the service in the final quarter of 2009.
Earlier this month, Sky announced that it was to offer its broadband consumers free access to a wider range of archive content on demand if they connected their broadband to a Sky+ high-definition box.
The new service will be known as Sky Anytime+, and will launch in the UK later this year.
Engine has worked with Sky for a number of years through WCRS, which creates campaigns for Sky+, Sky News and Sky Movies. Its most recent work for the brand includes a "Supertelly" campaign to promote Sky HD.
Other agencies that work on Sky's advertising roster include AKQA, Brothers and Sisters and EHS 4D.