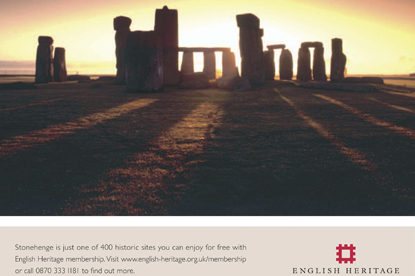 The organisation has issued a contract notice via OJEU, and agencies are requested to confirm their interest in pitching for the business by the middle of June.

The account, which currently does not have an incumbent, incorporates creative, strategic and design elements, including the production of direct mail, press ads, posters, and point-of-sale work.

The successful agency will also be responsible for the creation of brochures and corporate literature, as well as helping to promote the organisation's membership scheme.

A shortlist for the account is to be drawn up in mid-July, with an appointment expected to be made towards the end of the summer.

English Heritage is an organisation funded in part by the Government and in part from revenue earned from its historic properties and other services.

The body's work includes maintaining buildings such as Stonehenge, and distributing grants for the conservation of historic monuments and landscapes.

It also maintains a public archive, and works to broaden the public's access to its sites.