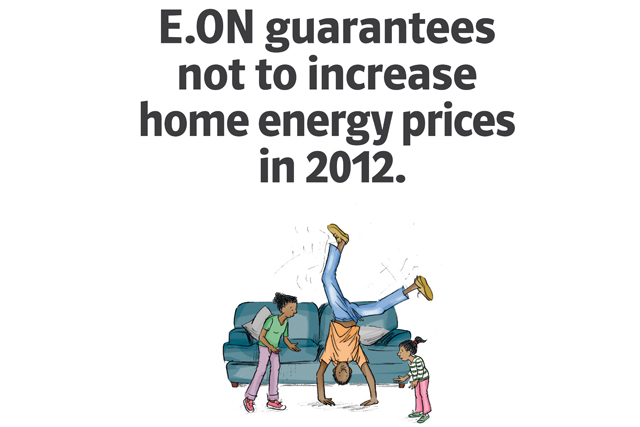 The press activity is headlined 'E.ON guarantees not to increase home energy prices in 2012' and continues the brand's animated style it uses in television advertising.
British Gas owner Centrica put out a statement on Friday (11 May) warning that wholesale costs will be around 15% higher this winter, which could result in a further £50 added to household bills.
Creative by DLKW Lowe states that E.ON has promised to "protect its home energy customers by not raising their prices in 2012" despite the overall trend of wholesale energy price rises.
MediaCom is handling the planning and buying for the tactical press campaign.
The campaign launched today and comes the day after E.ON promised not to raise residential prices in 2012 for its five million existing domestic customers in an attempt to be "fair and transparent".
Tony Cocker, chief executive of E.ON, said: "I want every family in the UK to know that we will always do our best to be fair and act in the best interests of our customers."
E.ON ran an ad campaign in October that sought to build trust, knowledge and engagement among customers as part of its Energy Fit Plan, which offers customers two months' free energy.
The current press campaign is driving home the message of fairness by saying it "always wants to be fair and clear" before citing a disclaimer.
Its disclaimer states "only customers on a fixed term deal that ends this year, or who are using more energy than last year, may see an increase".
Follow Matthew Chapman at @mattchapmanUK