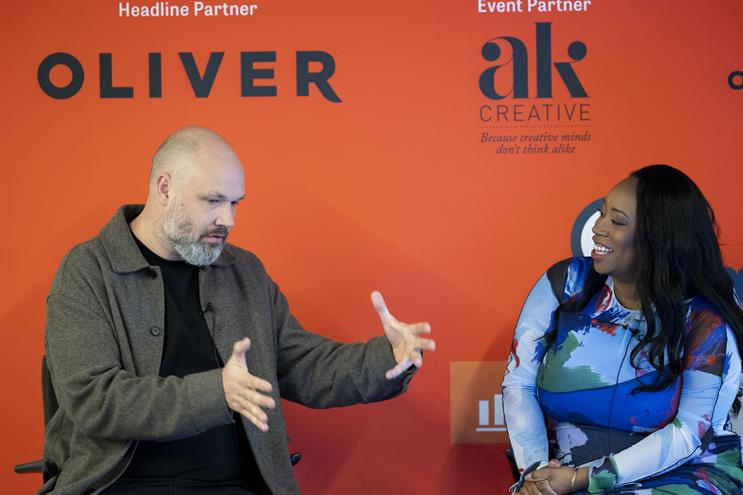 The decision on whether to in-house or not is not one to be taken lightly. Scott Somerville, CMO, E.ON UK admits that it was one that he found "terrifying".
Speaking at this year's Campaign In-Housing Summit – with Amina Folarin, CEO of E.ON's in-house agency partner Oliver – Somerville said that there were lots of reasons why the company eventually went down this road.
"I think a lot of people in the room will relate to this, but it was not an easy decision, with lots of twists and turns and a lot of challenges," he admitted.
Creative challenge
While E.ON is best known as a commodity supplier of energy, its future growth is in more lucrative areas such as solar panels and electric vehicle charging. Addressing this market was the catalyst for considering a change in working method away from a product-focused approach.
"It's a different communication challenge and a different creative challenge," said Somerville. "The work is to shift the brand to products that people choose to buy rather than have to buy."
E.ON had to look at the abilities it had as a team and the cost challenge at a time of efficiencies while still needing creative excellence, weighing up the advantages of agency service versus in-house.
Making the decision was a worry as it would entail taking a chance and breaking the previous model, said Somerville.
Keeping sight of the real challenge for the advertiser – making the brand visible and relevant to the consumer – is most important, rather than getting sucked into navel gazing about how you deliver it, he said.
"We've got a sector that's important, a topic that's important, a product that's important, but it isn't necessarily at the top of 'normal people's' conversation starters," he said.
"It's about making E.ON interesting and making consumers interested in us. That's a marketing person's job. Get someone interested in what you've got to talk about. Then the question is about the tools and how we set ourselves up."
Get the mix right
E.ON opted to work with Oliver for a number of reasons. The collaboration provided flexibility – it allowed E.ON to scale up its marketing team when required, with the Oliver team embedded alongside their E.ON colleagues.
It also allowed E.ON to beef up the creative firepower of the brand with Oliver offering insight into what other brands were doing beyond the energy sector.
Having an in-house agency partner has accelerated the business, he said, but it's not a straightforward mix of in-house or not. It depends on the needs of the business, and E.ON has about four separate businesses with different needs. Oliver helps it to flex the approach from fully in-house to a more hybrid route depending on business requirements.
The most valuable aspect of in-housing has been providing an external perspective on creativity in particular. The business is based in Nottingham and Coventry and has a fairly stable team so Somerville said that Oliver provides the freshness that he can't necessarily get from a stream of new faces coming into the team.
"We know about the energy sector so we don't need more people that just think about E.ON. That's the other aspect of the hybrid model – the ability to hear about what you did for other sectors," he said. "We've got a team that genuinely feels part of our day-to-day operations in the office with us. It also gives us flexibility when times are busy to connect to all those bigger resources."
Sustainable approach
Oliver has also worked with E.ON on developing a more sustainable approach to its marketing. This is a particularly important aspect for an energy brand and one where it is useful to get an idea of where the organisation sits in relation to other types of organisations.
"We're not perfect but our values are in the right place. We want to not just talk about sustainability, but execute it in the right way because there's a brand risk. We work in a very heavily scrutinised sector so we've got to be really careful that we're not accused of greenwashing," he said. "We need a path and our organisations are looking at how you execute the work."
It is also good to hear when you are doing good work, something that an outside-in perspective provides, said Somerville, who wants to extend the conversation to production partners to see what they can do to shift the dial in those areas.
He is also keen to look at other areas of marketing services which could benefit from an in-house approach, such as PR. 
"There are disciplines that you already have in-house, such as PR, and either you don't get the credit for being on-trend, or you don't get pressure," he said. "But at the end of the day it shouldn't matter what desk you're sat at, it's a case of 'does that work work?'"
And is the work better, asked Folarin?
Somerville said it is or the company wouldn't do it.
"The two biggest things for us are the ability to flex when there's a capacity angle and we can draw on bigger resources from Oliver when we need it. But that outside-in experience is priceless."