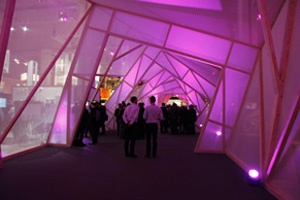 What was the event? Jack Morton Worldwide was tasked by Ericsson for the fifth consecutive year to create an invite-only experience at the Mobile World Congress (MWC), from 27 February to 1 March in Barcelona, built around Ericsson's global vision of a networked society. Guests included 7,000 existing and potential Ericsson customers from mobile network providers, as well as press, regulators and industry analysts.
How was the brief met? Ericsson had a hall of its own in which to create an exclusive experience for its stakeholders. The focal point was a giant 'spine' tunnel, which glowed an iridescent pink, green or blue depending on the light projected onto it. It served as a striking design feature in the dimly lit space, and as a pathway connecting every hub of activity within the hall. Panel screens, meant to represent spinal fragments, were suspended from the ceiling and carried images reflecting the networked society, as well as keynotes and presentations going on throughout the day.
On entering the hall, guests were met by their own personal business builder, who designed them a bespoke itinerary tailored to their needs. This was done against a backdrop of portrait photos framed in various Ericsson-branded colours, giving a shot of personality and warmth to what had the potential to be a tech-heavy, data-dominated experience.
Guests then had the run of nine focus areas, each concentrating on a specific part of Ericsson's business services, and differentiated by colour. Each also had a creative visual element to represent what it was about and act as a talking point. The communication services area, for example, featured a sculpture of white trumpets (made, in fact, from 45 customised trombones) exploding from a central sphere, to represent the universal explosion in communication. Also, a 3D geometric cloud - representing the cloud server - was suspended above the TV area, and onto which was projected images of connectivity around the world.
Networking and relationship building were vital to the Ericsson experience, so naturally there was a big emphasis on social spaces in the hall. To the left of the spine was a large, split-level seating area, which incorporated two cafes and a stage and felt like a super-size New York loft apartment. The floor was left uncarpeted, and on it were pods of retro, vintage and contemporary chairs, which gave way to a more rustic, relaxed mood - so unlike the all-white futuristic spaces you would usually associate with a technology brand. These areas were constantly buzzing throughout the day; delegates had slim chance of spotting a free chair over lunch amid the abundant clusters of grey suits.
In case the chairs proved too much of a distraction, however, within the main break-out area was yet another visual representation of Ericsson's networked society concept. A huge, cross-shaped yellow table carried miniature objects including a set of traffic lights, a presidential palace and a globe, meant to represent the potential of the brand's vision when mobile operators, technology developers, industries and governments work together to connect the world.
For those keen to get away from the crowds, there was a semi-private meeting area, 40 individual meeting rooms and a separate auditorium for smaller presentations.
In the evening, networking areas took on a celebratory feel as they transformed into one party space, complete with a sushi bar, jamon carvery and mini-burger stand. The main stage hosted musicians and dance acts from around the globe as guests drank, chatted and yes - even danced - into the night.
What was good? The eclectic mix of retro chairs in the networking areas and all the elegant, homely touches - especially wall-mounted wine boxes above the cafe, painted in Ericsson colours - made for subtle branding. The cumulative effect gave the hall an informal and stylish feel, which is unusual at a corporate event.
What was bad? The theatre-style seating area around the main stage was at times limited, which meant some areas became very crowded and people had to stand when listening to keynotes. However, the speakers were projected onto panel screens suspended from the ceiling, so everyone could see and hear them without having to break conversations.
VISITOR VIEW - PATRICK SATHLE, CHIEF EXECUTIVE, ADAY.ORG
What is good? The social atmosphere in the hall. The way it's designed gives guests the chance to get together and talk on their own terms, which is a great way to connect with people.
What is bad? The stage is possibly under-used. It's away from the main area and I haven't seen a presentation on it yet.
What brought you to this event? We are partnering with Ericsson on a new venture, Aday.org, which aims to capture a day in the life of the world on 15 May.
ORGANISER VIEW - TIM ELLIOTT, HEAD OF CREATIVE, JACK MORTON WORLDWIDE
What was the biggest challenge? Working to embrace many different viewpoints from multiple stakeholders to create a cohesive, visually arresting result. It's a multi-dimensional experience, so getting the balance just right was a challenge.
Would you do anything differently next time? Probably lots of things, but the trick is to learn from every year so as to evolve the experience and keep it interesting. Ericsson is mindful of staying ahead of the curve, and we wanted to maintain the element of surprise and innovation in this event.
What did the event achieve? Creating an immersive and imaginative brand experience, which articulated Ericsson's powerful narrative, meant customers were happy to spend quality time with the brand, being inspired and further nurturing their relationship.
BEHIND THE SCENES
Event organiser Jack Morton Worldwide, jackmorton.com, (020) 8735 2000
Venue Fira de Barcelona, Firabcn.es, +34 93 233 20 00
Pick of suppliers
Connect Live, connect-live.co.uk, (020) 8972 9181
Dimension Audio, dimension.co.uk, (01293) 582005
Display International, displayint.com, (01277) 203377
Static Light, staticlightcompany.com, (01992) 766766