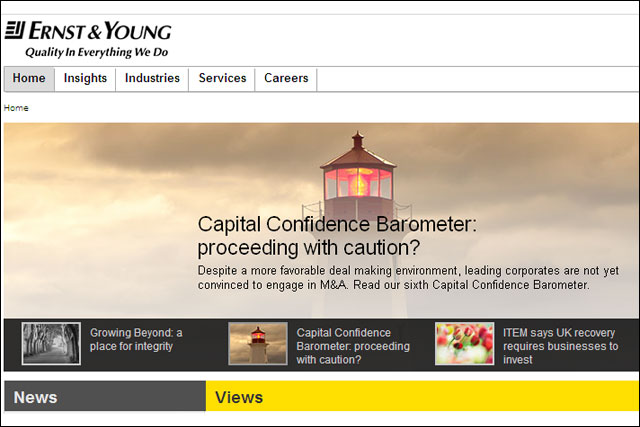 UM International picked up the business following a review handled through the AAR. It is believed that the other agencies involved in the process were Mindshare and Starcom.
UM International will work with Ernst & Young on its global communications planning, as well as providing full media buying for global media properties, such as CNN, airport outdoor media and Eurosport.
Although the appointment will not affect the relationship Ernst & Young has with agencies in its individual territories, its regional and national marketing teams will be able to lean on the work produced by UM International.

Eddie Bowman, global marketing director of Ernst & Young, said: "We were particularly impressed with the quality of UM International's global media planning team, their experience and capabilities.

"The new media landscape is challenging for all organisations, not least the most globalised, client- focused, professional services – Ernst & Young. It is prudent that we secure sound advice as we navigate through this rapidly changing media landscape."

Ernst & Young will continue to work with OMD UK on a project basis in the UK and EI on a regional basis in Europe and the Americas.

Creative collective The Assembly was appointed to Ernst & Young's creative and global brand strategy account in 2010.

Patrick Ryan, European new business director at UM, said: "This win is a further demonstration of UM International's dedication to treating clients as true business partners and delivering ground-breaking new approaches to communications."
Follow Maisie McCabe on Twitter @MaisieMcCabe