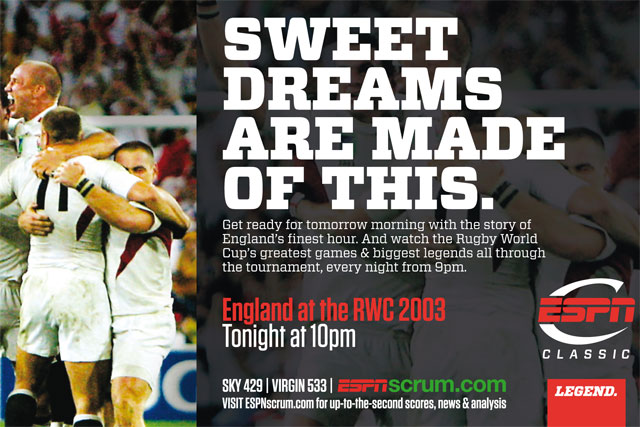 The campaign, created for ESPN by Bruce Dunlop & Associates, starts tomorrow (9 September) on the same day as the tournament and will run in national newspapers, online and social media.
The ads will be tailored to the upcoming matches. Tomorrow's ad will target England fans ahead of the game against Argentina on Saturday (10 September) but later ads could reference other home nations.
As ESPN does not have broadcast rights to the tournament the campaign will promote ESPN Classic's relevant programming (such as documentaries about England's performance in past tournaments) the evening before England's group games.
Sally Bowness and James Moody were the campaign's copywriters, with art direction by Tim Finnamore and Paul Maley.
Mike McKibbin, group marketing director, ESPN Europe, the Middle East and Africa, said: "We know that during the Rugby World Cup, rugby fans are totally obsessed. Rugby is all they think about.
"They need great stories, they need great games, they need legends so we're feeding that fever before every live game, throughout the tournament thorough this new campaign."
Official partners of the tournament such as Toshiba, Land Rover, ITV and Guinness are advertising on ESPN's rugby website ESPNscrum.com during the competition to reach people reading and watching the site's news, analysis, video and interviews.
Land Rover is offering ESPNscrum.com readers the chance to win tickets to the Final in Auckland, while ITV and Toshiba are advertising on the website's display ad formats, including banners.
Alan Fagan, group director of advertising and sponsorship sales EMEA at ESPN, said: "As we build up to rugby union's premier event in New Zealand, ESPNscrum offers brands a rich-media and immersive connection to fans.
"Our latest advertising deals demonstrate ESPN's reach to sports fans worldwide, allowing brands to connect with fans around the world's premier sporting events."